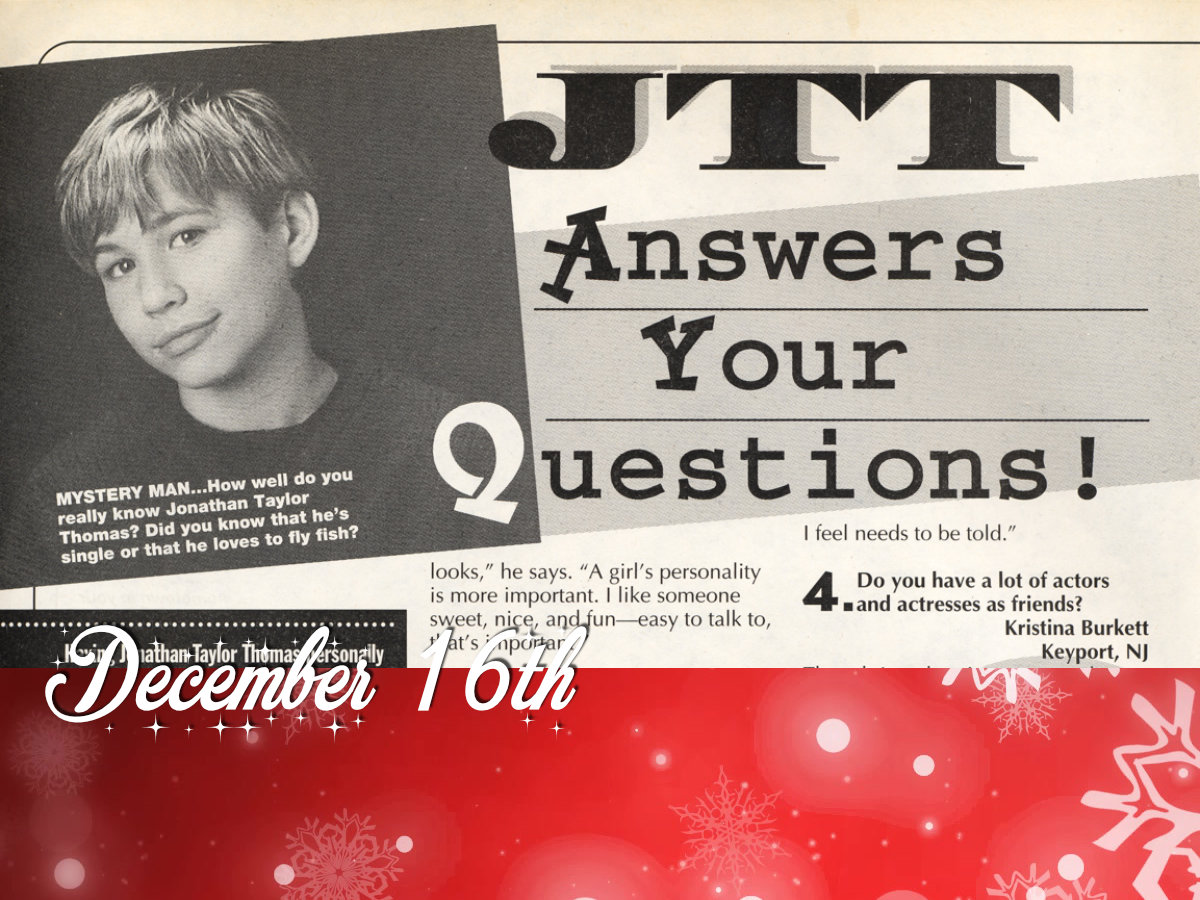 Continuing the 25 days of Christmas. Today JTT answers your questions, in this article from the May 1997 issue of Tiger Beat.
JTT answers your questions!
Having Jonathan Taylor Thomas personally answer your very own question is a dream come true and Tiger Beat made it happen! Read on.
Ever wonder what a star like Jonathan Taylor Thomas really thinks? Sure, we all know the Jonathan who stars as wisecracking 'Randy Taylor' on Home Improvement each week or who played the mischievous 'Tom Sawyer' in Tom And Huck and the nature-loving 'Marshall Stauffer' in the upcoming Wild America, but who is the real JTT? That's probably Tiger Beat readers' #1 question. A few issues ago, we asked TB readers to send in a question for Jonathan. We received all kinds of wonderful questions – some funny ones, some serious ones and some really original ones, too! Unfortunately, we couldn't ask him all of them since he has to take some time to work on his many projects! Here are Jonathan's own personal answers to ten of your questions! Drum roll, please…
Do you have a girlfriend?
Jannet Sanchez, La Puente, CA
No, girls across the world – JTT is very single! Since his career takes up a lot of his time, having a relationship isn't easy. "Dating is not a priority right now," Jonathan admits.
But when the time does become right this down-to-earth guy is definitely attracted to a girl who has a lot more going for her than just physical beauty! "I'm not so into looks," he says. "A girl's personality is more important. I like someone sweet, nice, and fun – easy to talk to, that's important."
What is it like to be away from home a lot?
Scott Odom, Lawrenceville, GA
As a film actor spending weeks on location isn't unusual. When he's away, Jonathan misses his family and friends a lot, but he also really loves traveling. In fact, he feels it's one of the biggest perks of being in the business! "It really is a fun part of it – you get to travel and look at new places, meet new people," Jonathan explains. "It's not a drag at all."
How many movies have you starred in?
Ashley Hennessey, Lowell, MA
JTT's star turn as the voice of young 'Simba' in The Lion King made the blockbuster film even more regal! He then took his whole body into Man Of The House, followed by the action-adventure Tom And Huck,
The Adventures Of Pinocchio and he'll return to the big screen for next summer's Wild America costarring Devon Sawa and Scott Bairstow. It's sure to be a big hit and JTT couldn't be more excited about it!
"It's a great story about 'Marty, Mark and Marshall Stouffer' who make films about animals. They're the best in their field today," says JTT. "The film's set in 1967 and the Stouffers have to deal with a lot of issues on the homefront, too. The stuff that they lived through is incredible. Wild America is a true story that I feel needs to be told.'
Do you have a lot of actors and actresses as friends?
Kristina Burkett, Keyport, NJ
Though Jonathan is an extremely friendly guy who makes friends wherever he goes, he doesn't necessarily seek out other actors as friends. As a matter of fact, Jonathan likes to get as far away from the biz as possible when he's not acting!
"Most of my friends – in fact, all of them – are really not involved in the acting industry, they're just regular kids," says JTT. "I figure if I'm going to have free time, why not spend it with kids who are not in the business?"
Where do you see your career headed?
Ashley Mitchell, Springs, FL
"I love to act and plan on doing it as long as I can! Someday I'd even like to direct," answers JTT. But that doesn't mean he's not going to take some time out for college. Though he's only 15 and a high school freshman, Jonathan has already visited plenty of universities and favors top schools like Northwestern University, New York University and Yale. Who knows where he might turn up – you could be sitting next to him in class one day! "Education is the most important thing to me," he says.
Why did you cut your hair?
Dawn Peirce, Virginia Beach, VA
Like everyone, JTT likes to change his appearance once in a while! And he's gone through his share of hair changes in the last couple of years.
His Tom And Huck period hair gave way to a longer mane and now he's content with his chic short style! Doesn't he look absolutely great?
Do you answer all of your letters personally?
Heather Curry, Minneapolis, MN
Understandably, JTT is a very busy guy who barely has time to eat breakfast never mind answer every letter he receives! But, he assures, "My mail is pretty backed up now, but eventually you will hear from me." And joining JTT's super cool fan club (which is run by his family!) will give you up-to-the-minute info on everything JTT! To join, send an $18.00 check or money order (or $20 if you live outside the U.S.) to: JTT Fan Club, PO Box 1186, Twain Harte, CA 95383.
How old were you when you started acting? How did you start acting?
Christina Little, St. Cloud, FL
When JTT was just a baby in Bethlehem, Pennsylvania, he already had the star quality that we can all plainly see now! After moving out to Sacramento, California, he took that natural charm to work and started out as a model, then quickly graduated to doing commercials. But JTT had bigger plans in store for himself! "L.A. was a dream, you know?" he recalls. When he made the move to the City of Angels at the age of 9, he soon won his first role on the shortlived The Bradys TV series. After that, he won the part of Randy on Home Improvement and the rest, as they say, is history! "I never expected this!" says JTT.
What is your favorite sport? What do you like to do in your spare time?
Melissa Greenawalt, Prospect, CT
Jonathan is a master fly fisherman who loves to take his reel to the water whenever he can. One of his favorite fishing experiences was during the filming of Tom And Huck. "The south has a lot of great bass lakes so I was really happy," he explains. "We caught a lot of bass. It was really good fishing!"
Other fave pastimes include shooting hoops, hanging out with his cats Sami and Simba and dog Mac, listening to Hootie & the Blowfish, reading National Geographic and checking out the latest flicks with his friends! Just don't look for JTT at a mall – it's definitely not his scene. "I don't like being in big groups, I don't like hanging out at malls or that sort of thing. I like being alone sometimes."
Are Taran Noah Smith, Zachery Ty Bryan, Patricia Richardson and Tim Allen really like a second family to you?
Amanda, Comstock Park, MI
You bet! The cast of Home Improvement couldn't be closer. Jonathan is especially close with Tim Allen, who's a really good friend and like a second dad to him. And Jonathan loves learning about life from
his TV parents. "When you are around adults you should learn what you can. I enjoy listening to them," he says. He also loves to hang out with Zach and Taran! They'll get an impromptu touch football game going or just chill out together – boys will be boys, after all! Home Improvement, which is in its seventh season, is still tons of fun for the cast and crew. As for his TV dad, he has nothing but glowing things to say about JTT. "Nothing's really changed," says Tim Allen about life with rising star Jonathan on the HI set. "He's really a sweet kid."
Have you still got more questions for Jonathan? Well, keep 'em coming! We'll round up the best ones and ask JTT to answer them in a future issue! Send them to: A Question For JTT, do Tiger Beat, 233 Park venue South, NY, NY 10003. Don't forget to include your name, age, hometown in your letter!
Source: Tiger Beat
Date: May 1997
Author: unknown

Related Images: