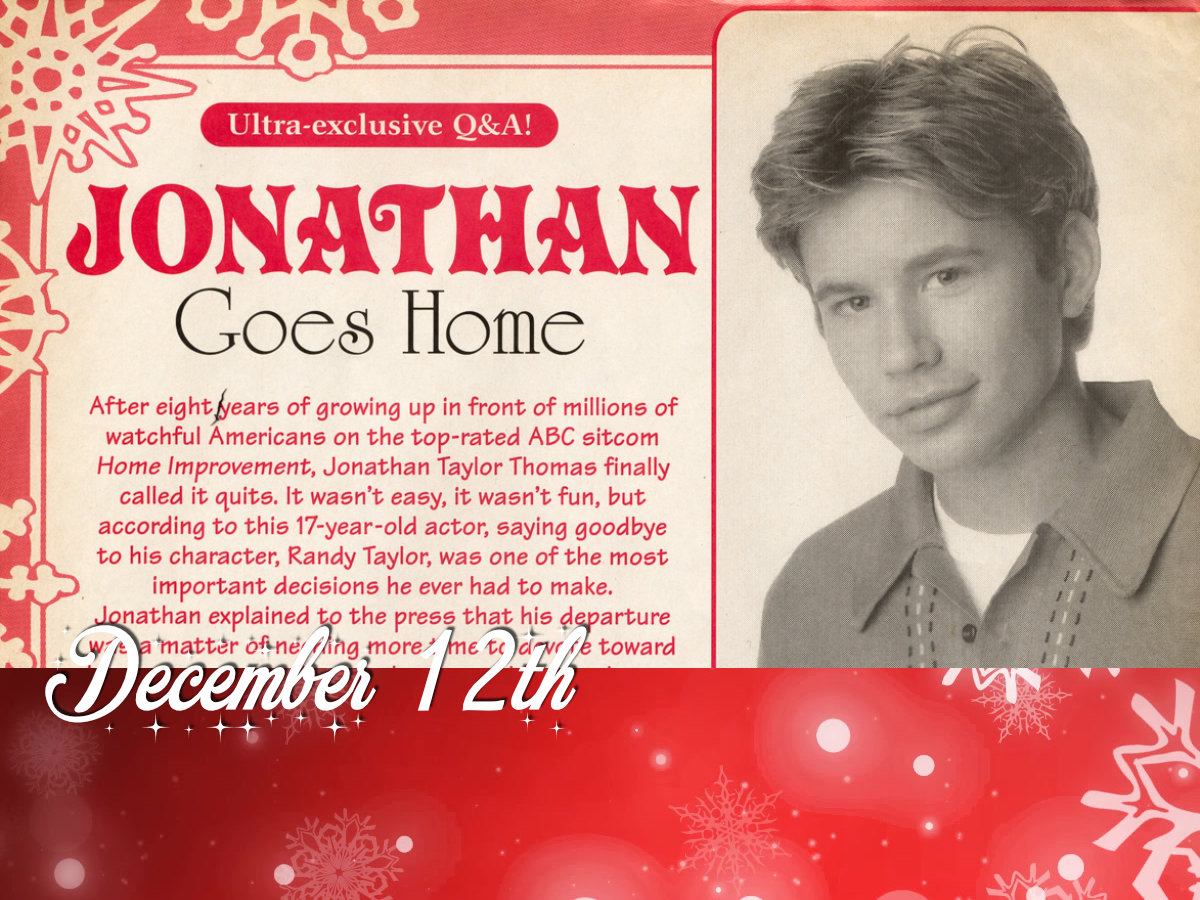 We continue the 25 days of Christmas with an interview with Jonathan brought i BOP Magazine December 1998 after he had left Home Improvement to focus on his studies.
Ultra-exclusive Q&A!
Jonathan goes home
After eight years of growing up in front of millions of watchful Americans on the top-rated ABC sitcom Home Improvement, Jonathan Taylor Thomas finally called it quits. It wasn't easy, it wasn't fun, but according to this 17-year-old actor, saying goodbye to his character, Randy Taylor, was one of the most important decisions he ever had to make. Jonathan explained to the press that his departure was a matter of needing more time to devote toward his junior-year studies so that he could attend a top university. As you can imagine, the pressure to do the right thing was incredible. That's why BOP recently sat down with Jonathan, currently starring in Disney's I'll Be Home For Christmas, and asked him to share exactly what went on behind this momentous decision.
BOP: How hard was it for you to make this decision to leave the show?
Jonathan: It wasn't easy. It's never easy when you leave a place you've been for almost eight years and you have such great relationships with the people. This was not one of those situations where there's a lot of animosity and someone leaves because someone else is angry and whatnot.
BOP: Was your decision to leave a complete shock to the cast and crew?
Jonathan: You know, I don't know. I don't know how it came down. All I know is that they were very supportive. I talked to Tim [Allen] and he was really understanding and supportive and great about it. So I don't know if it was that much of a shock. I wasn't there when they found out.
BOP: Do you think Zachery Ty Bryan and Taran Smith will be okay without you?
Jonathan: Oh, I think everyone's going to be fine. I mean, the show will definitely be great.
BOP: What will you miss most?
Jonathan: The laughs, definitely. I mean, that's the first thing that came to my mind. I'm going to miss being on the set and laughing so much, especially with Tim. I will miss everyone. But at the same time, I'm going to be real happy to be with my friends and be a regular kid for a while. I look forward to that.
BOP: Are there any particular universities that you're eyeing at the moment?
Jonathan: I'm looking at Ivy League schools, primarily Yale, Harvard, Brown and Columbia. I visited a lot of those campuses.
Also Northwestern—I liked that one a lot. I went out there [to Chicago] and visited it and just had a great time. I'm a Chicago Bears fan so that always helps.
BOP: Will you continue to act while you're in college?
Jonathan: Possibly. I'm not going to hold myself to anything. Basically, it's a matter of what comes along. But it would have to be something that I'm really passionate about and on a pretty grand scale to take me away from school. I don't want it to take 13 years for me to graduate.
BOP: There's a lot of fans out there, not to mention those of us at BOP, who are going to miss seeing your face on TV every week, Jonathan!
Jonathan: Oh, thank you. Well, I'm not falling off the face of the planet, I hope. I'm not dying here!
Source: BOP Magazine
Date: December 1998
Author: unknown

Related Images: