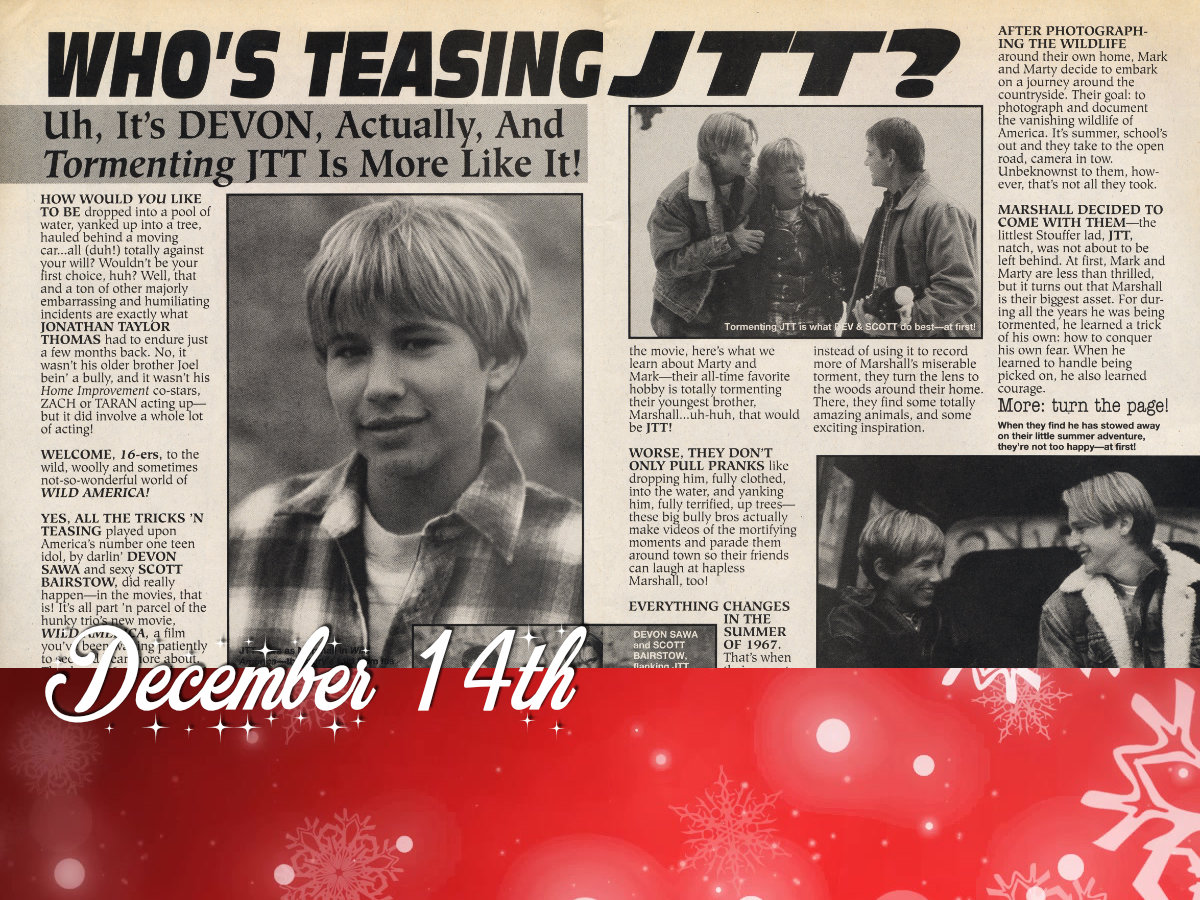 Continuing the Wild America theme. This article from the February 1997 issue of 16 Magazine, reveals the a bit of the plot, but who's actually teasing JTT?
Who's teasing JTT?
Uh, it's Devon, Actually, and tormenting JTT is more like it!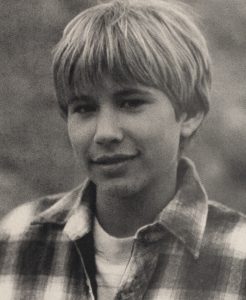 HOW WOULD YOU LIKE TO BE dropped into a pool of water, yanked up into a tree, hauled behind a moving car…all (duh!) totally against your will? Wouldn't be your first choice, huh? Well, that and a ton of other majorly embarrassing and humiliating incidents are exactly what JONATHAN TAYLOR THOMAS had to endure just a few months back. No, it wasn't his older brother Joel bein' a bully, and it wasn't his Home Improvement co-stars, ZACH or TARAN acting up – but it did involve a whole lot of acting!
WELCOME, 16-ers, to the wild, woolly and sometimes not-so-wonderful world of WILD AMERICA!
YES, ALL THE TRICKS 'N TEASING played upon America's number one teen idol, by darlin' DEVON SAWA and sexy SCOTT BAIRSTOW, did really happen – in the movies, that is! It's all part 'n parcel of the hunky trio's new movie, WILD AMERICA, a film you've been waiting patiently to see and hear more about. Thanks to 16, part of the wait is over: on this and the next few pages, you'll get a taste of what JTT & DEV have in cinematic store for you.
OKAY, SO THE STORY. Wild America is the true tale of three brothers, growing up in Ft. Smith, Arkansas.
SCOTT BAIRSTOW (remember him from White Fang 2? Or Lonesome Dove, the TV series?) plays oldest brother Marty Stouffer; DEVON SAWA (needs no introduction!!) plays middle bro Mark. In the beginning of
the movie, here's what we learn about Marty and Mark – their all-time favorite hobby is totally tormenting their youngest brother, Marshall…uh-huh, that would be JTT!
WORSE, THEY DON'T ONLY PULL PRANKS like dropping him, fully clothed, into the water, and yanking him, fully terrified, up trees – these big bully bros actually make videos of the mortifying moments and parade them around town so their friends can laugh at hapless Marshall, too!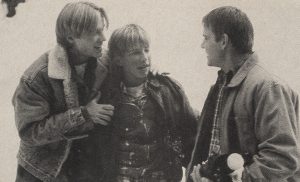 EVERYTHING CHANGES IN THE SUMMER OF 1967. That's when their parents buy the older boys a camera – it isn't new, but it is professional quality and quite new to them. For a change, instead of using it to record more of Marshall's miserable torment, they turn the lens to the woods around their home. There, they find some totally amazing animals, and some exciting inspiration.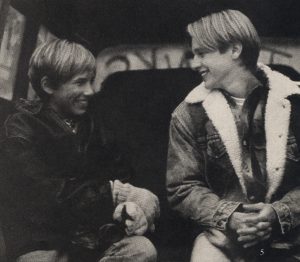 AFTER PHOTOGRAPHING THE WILDLIFE around their own home, Mark and Marty decide to embark on a journey around the countryside. Their goal: to photograph and document the vanishing wildlife of America. It's summer, school's out and they take to the open road, camera in tow. Unbeknownst to them, however, that's not all they took.
MARSHALL DECIDED TO COME WITH THEM – the littlest Stouffer lad, JTT, natch, was not about to be left behind. At first, Mark and Marty are less than thrilled, but it turns out that Marshall is their biggest asset. For during all the years he was being tormented, he learned a trick of his own: how to conquer his own fear. When he learned to handle being picked on, he also learned courage.
JTT, DEVON & SCOTT In Wild. America: your sneak preview!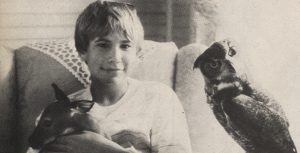 JTT'S COURAGE – as Marshall, of course – comes in mighty handy. Like the time he gets caught in the antlers of an enraged moose! Or the time his brother Mark – that's DEVON, of course – almost becomes lunch for a hungry alligator! Or the time all three accidentally wake a caveful of hibernating grizzly bears. Each time, it's JTT's wits-about-him bravery that gets them out of those scary situations: and gets them the photos they went looking for in the first place.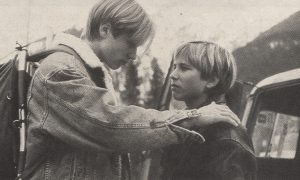 WILD AMERICA, as we told ya', is a true tale. The Stouffer brothers really do exist; one of 'em even hosts a PBS-TV program called…yep, Wild America! In fact, the three are widely recognized as America's foremost wildlife photographers. For JTT, DEVON & SCOTT, it was an amazing honor to be able to bring their story to the screen.
WHEN WILL YOU SEE WILD AMERICA? It's slated to hit movie screens this coming March, so be on the lookout. For more details, keep a close eye on future issues of 16, your pass to Wild America!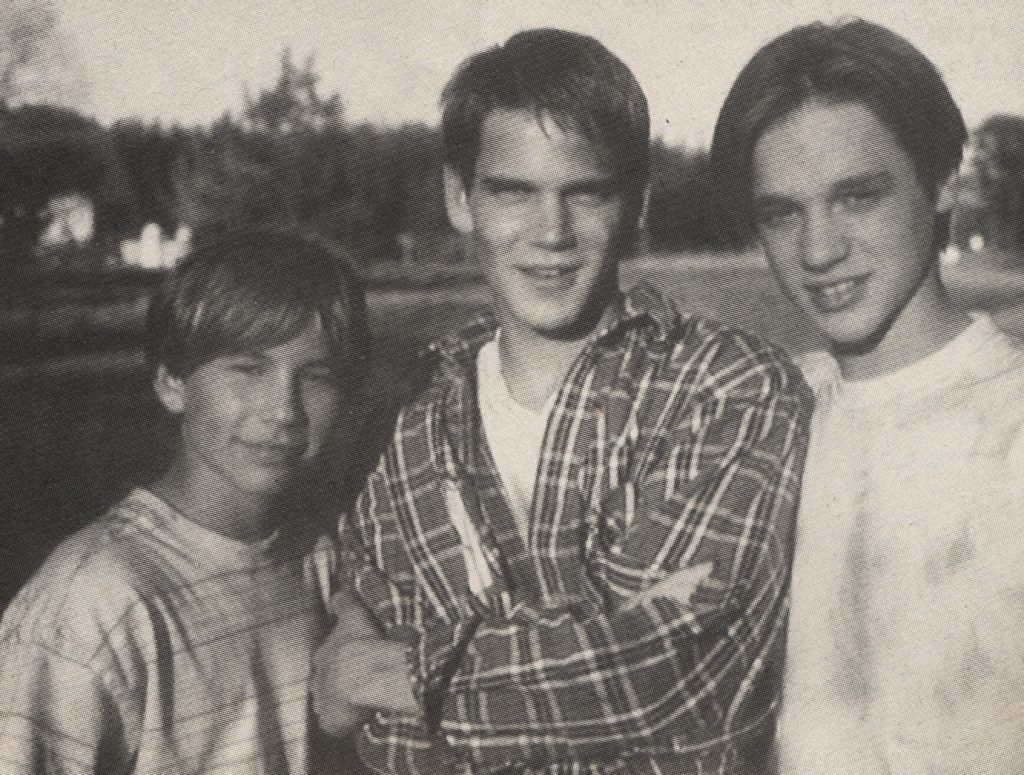 Source: 16 Magazine, Volume 38, No 6
Date: February 1997
Author: unknown

Related Images: