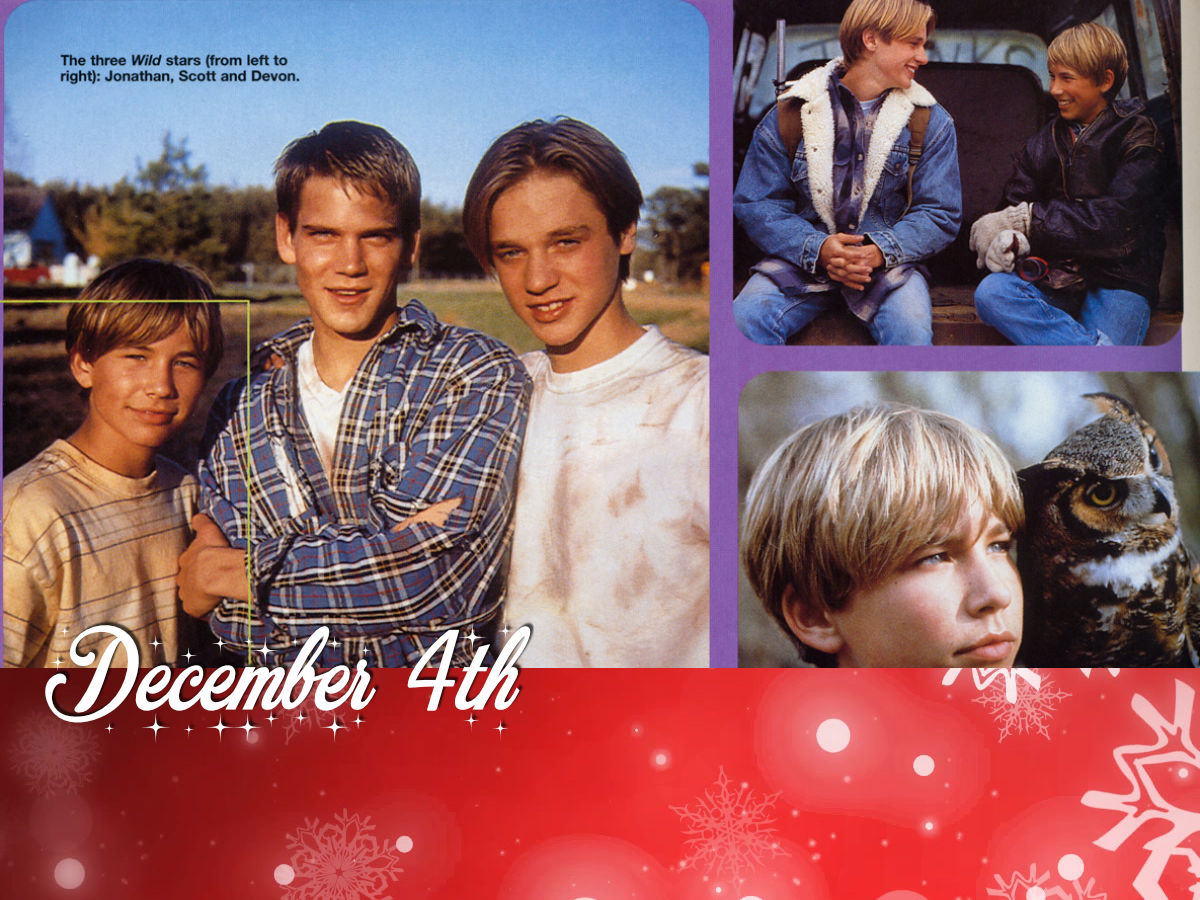 Continuing 25 days of Christmas with an article from the September 1997 issue of the Australian youth magazine Dolly. This features interviews with Jonathan as well as Devon Sawa.
You've heard the hype, now live the experience.
Wild America has finally come to town. Grrrrr!
Three of Hollywood's hottest babes, stuck out in the desolate wilderness to make a movie together. It sounds too exciting for words, doesn't it? Well the finished product, which stars Jonathan Taylor Thomas, Devon Sawa and Scott Bairstow, is hitting our cinemas this month, and we've got all the behind-the-scenes goss!
Wild America is based on the real-life adventures of the Stouffer brothers – Marty, Mark and Marshall, who are today regarded as America's foremost wildlife photographers.
But when they were wee lads, they were a tad less experienced. Poor youngest brother Marshall (Jonathan) was the one who was always sent out to help get the good shot, and who ended up having some close encounters with mooses, bears and alligators!
The young hunky cast are very excited about the film.
"It has a lot of adventure, a lot of exciting scenes, and at the same time deals with a lot of home-life issues," says Jonathan Taylor Thomas.
"It's about these three brothers finding their roots and finding out what they want to do with their lives. They set off across the country to film animals. They have a great adventure and sort of mature and grow up and change along the way."
Shooting the film didn't come without its difficulties. It is, after all, a movie about wild animals. But the boys tackled the challenges with true professionalism.
"I had doubles for some scenes, but a lot of the movie was very physical," says JTT. "I mean, Devon and Scott and I are all pretty athletic. It wasn't easy, but it was fun."
Jonathan had to deal with the brunt of the stunts, as he plays the youngest brother who continually gets asked to do dangerous things by his ambitious older brothers.
"I had to float down a river. That wasn't much fun. It was really cold. I had a complete dry suit on, so if I look like a marshmallow it's because I have a dry suit on underneath."
Crazy fans
As if all these perils weren't enough, imagine the mayhem caused by having two of the world's biggest teen idols in the same place at the same time. But spunkelicious babes JTT and Devon are modest about the pandemonium they caused in public. Says Jonathan: "A lot of the movie was filmed in really remote areas in the Canadian wilderness and Alberta. I think fans would have had to work real, real hard to come by the set."
"It was weird. It really wat like we were three brothers."
But that's exactly what some fans did! Poor ol' Dev admits he had a rather hard time of it. "There was a girl who would hang around the hotel in Savannah, Georgia, while we were filming, and she would send gifts and show up on the set," he recalls, shuddering. "It was cool at first, and I talked to her a few times, but she didn't get it that we had to work. It got to the point where she wouldn't give up – stalking doesn't do anything for me! That was scary!"
Freaked out fans aside, the boys had a 'wild' time making the flick, and had loads of cool bonding seshes.
"We watched movies or went to dinner," explains JTT. "We were filming in a really rural area and there wasn't a lot to do, but we had a good time. They are fun guys and great actors. I'd love to work with them again. They are good friends." Devon is in total agreement, saying, "It was weird. It really was like we were three brothers."
Boys' reunion
Devon and Scott Bairstow (the hot newcomer who plays the boys' older brother, Marty) had already worked together on the TV mini-series Lonesome Dove, so it was like a reunion for them, and they soon took young JTT to their hearts.
"Me and Scott really treated Jonathan like a little brother," says Dev. "We'd tease him and he'd tease us." JTT rolls his eyes. "They would try to justify it by saying it would build my character," he laughs.
The boys also had the benefit of getting advice from the real-life Stouffer brothers.
"They're fantastic people," enthuses JTT. "They've got so many stories, we couldn't put them all in the movie. But I think we did justice to their lives. The goal wasn't to portray them exactly – we didn't have to get down their mannerisms. But in general – looks and attitude – I think we did capture the essence of the brothers."
For example, Devon's character Mark is obsessed with his appearance and completely girl crazy. His real-life counterpart admits this was a pretty accurate rendition.
"[Mark Stouffer] said he used to always do weights in his room and he was very girl crazy and into having a good time," says Dev.
As for newcomer Scott Bairstow, although he loved making the film, he reckons he wouldn't encourage anyone to set off on a crazy journey like the Stouffer brothers. "I would tell 'em, 'No way… you could get killed'," he says. "I think what people will take away from this film is that if you're going to go out and risk your life, make sure you get it on film!"
Source: Dolly
Date: September 1997
Author: unknown

Related Images: