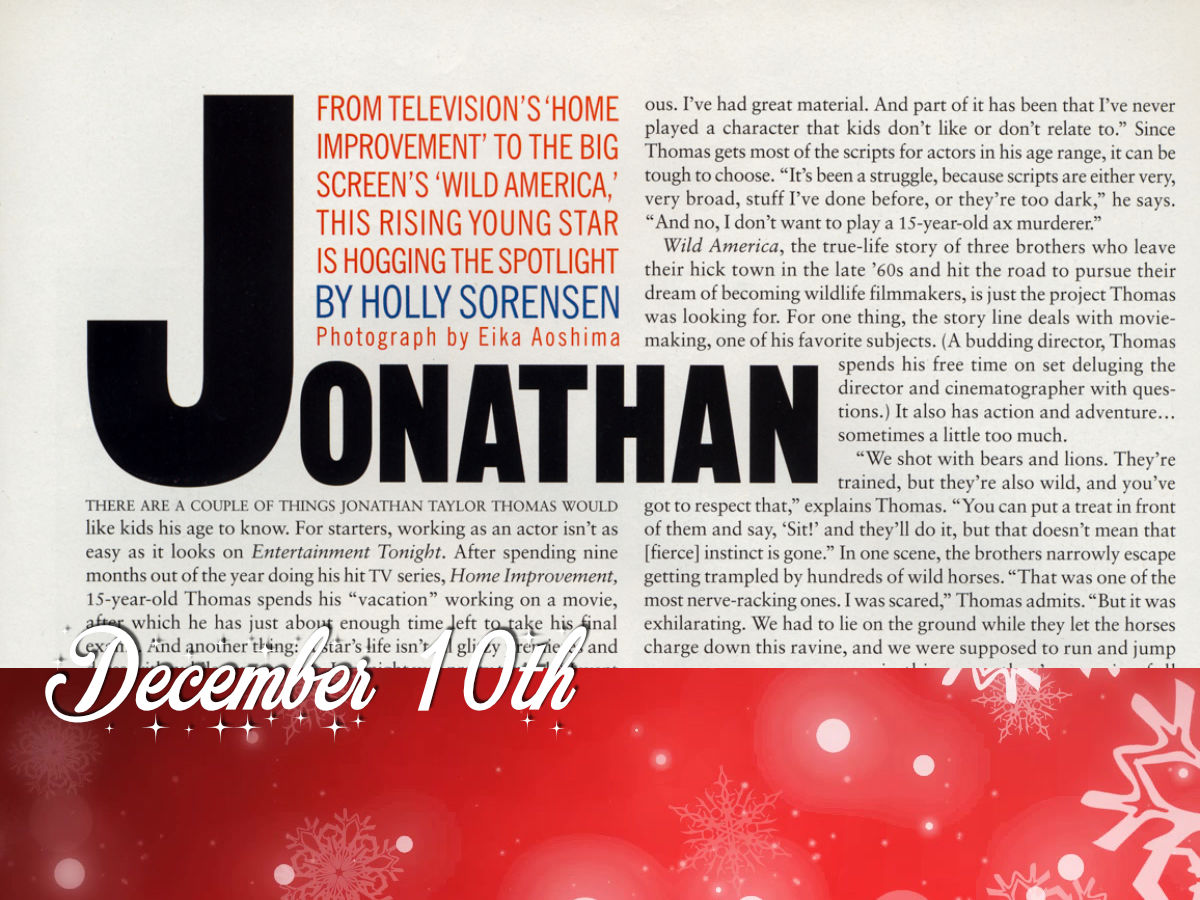 Today's article from August 1997 issue of US Weekly, featuring interview with Jonathan about his latest movie Wild America and his plans after college.
Jonathan Taylor Thomas
From television's "Home Improvement" to the big screen's "Wild America," this rising young star is hogging the spotlight.
by Holly Sorensen
There are a couple of things Jonathan Taylor Thomas would kids his age to know. For starters, working as an actor isn't as easy as it looks on Entertainment Tonight. After spending nine months out of the year doing his hit TV series, Home Improvement, 15-year-old Thomas spends his "vacation" working on a movie, after which he has just about enough time left to take his final exams. And another thing: A star's life isn't all glitzy premieres and dates with nubile supermodels. Last night was pretty typical. "I went over to my friend's house, we played some basketball, and we…" Thomas winces. "We, uh, went bowling. I'm not really a fan of the sport or anything, but we couldn't think of much else to do."
OK, so Thomas is not Mr. Excitement. He also isn't spoiled or smartassed, and he doesn't hang out at clubs or throw temper tantrums. "Jonathan is very uncorrupted by his success. He has an innate cool," says Home Improvement co-star Patricia Richardson, who plays his mom. "He's alarmingly adult, but then, he was alarmingly adult when he was 9. He would bring a newspaper to the set with him every day and read it cover to cover, and then he'd want to discuss it. And he could." Amiable and unpretentious, Thomas will tell you he likes school (straight As), loves fly-fishing and, though he has his driver's permit, still uses his mom's car.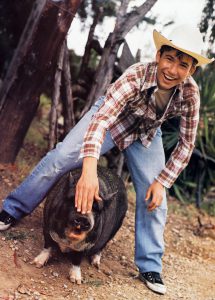 Nonetheless, he is one of Hollywood's most bankable child actors, with a consistently top-rated show and a three-picture deal at Disney. Since landing the role of Randy, the middle son on Home Improvement, at the age of 9, Thomas, like his TV dad, Tim Allen, has successfully branched out onto the big screen, starting with his 1994 role as the speaking voice of Young Simba in The Lion King. Now, thanks to a string of wholesome, all-American-boy turns in Man of the House, Tom and Huck and Pinocchio, Hollywood execs have realized what tens of thousands of crazed Teen Beat readers have known for years:
This kid is a star. On posters for his new movie, Wild America, as with his previous two efforts, Thomas' name appears above the title, a testament to his status.
So what does the young actor think is the reason for his success?
"Gosh, I have no idea," he deadpans while taking a break on the set of Home Improvement. "Ed like to say that it's raw talent." He laughs. "I guess it's because my character on the show has always been very humorous. Eve had great material. And part of it has been that Eve never played a character that kids don't like or don't relate to." Since Thomas gets most of the scripts for actors in his age range, it can be tough to choose. "It's been a struggle, because scripts are either very, very broad, stuff I've done before, or they're too dark," he says. "And no, I don't want to play a 15-year-old ax murderer."
Wild America, the true-life story of three brothers who leave their hick town in the late '60s and hit the road to pursue their dream of becoming wildlife filmmakers, is just the project Thomas was looking for. For one thing, the story line deals with moviemaking, one of his favorite subjects. (A budding director, Thomas spends his free time on set deluging the director and cinematographer with questions.) It also has action and adventure… sometimes a little too much.
"We shot with bears and lions. They're trained, but they're also wild, and you've got to respect that," explains Thomas. "You can put a treat in front of them and say, 'Sit!' and they'll do it, but that doesn't mean that [fierce] instinct is gone." In one scene, the brothers narrowly escape getting trampled by hundreds of wild horses. "That was one of the most nerve-racking ones. I was scared," Thomas admits. "But it was exhilarating. We had to lie on the ground while they let the horses charge down this ravine, and we were supposed to run and jump in this car as they're running full speed, getting closer and closer. I'm thinking, 'Oh, no, I'm going to hit a piece of dirt and trip and fall and get trampled to death.' None of us cared about hitting our marks, it was just, let's get in that car."
In one of the movie's most powerful moments, Thomas' character, Marshall, confronts his indifferent father. It's a scene one suspects is near to Thomas' heart. When asked if he sees his own father (who was divorced from his mother when Thomas was living in Sacramento, Calif., before he was discovered), the actor looks at his feet and answers, "Um…no. Not much." But his love and support for his mother, Claudine Thomas, who acts as his manager, is palpable. "My mom could parent a hundred people," he says. "She's so strong. I definitely would not be here if it wasn't for her."
After college —Northwestern, Yale and Carnegie Mellon are on his wish list — Thomas hopes to start his own production company. "Around the set we joke that he's going to be Ron Howard someday," says Richardson. And what if Hollywood fell into the ocean? Thomas laughs. "It sounds bizarre, but I wouldn't mind going into politics if I could do it with some sort of dignity," he says. "It's one way of making a difference. Kids today don't have much hope. There are no real causes, there is no war effort, the rain forest is in
Brazil. You basically go home, watch TV and play video games. Actors and athletes are fine, but kids need to see who the real heroes are."
Source: US Weekly
Date: August 1997
Author: Holly Sorensen

Related Images: