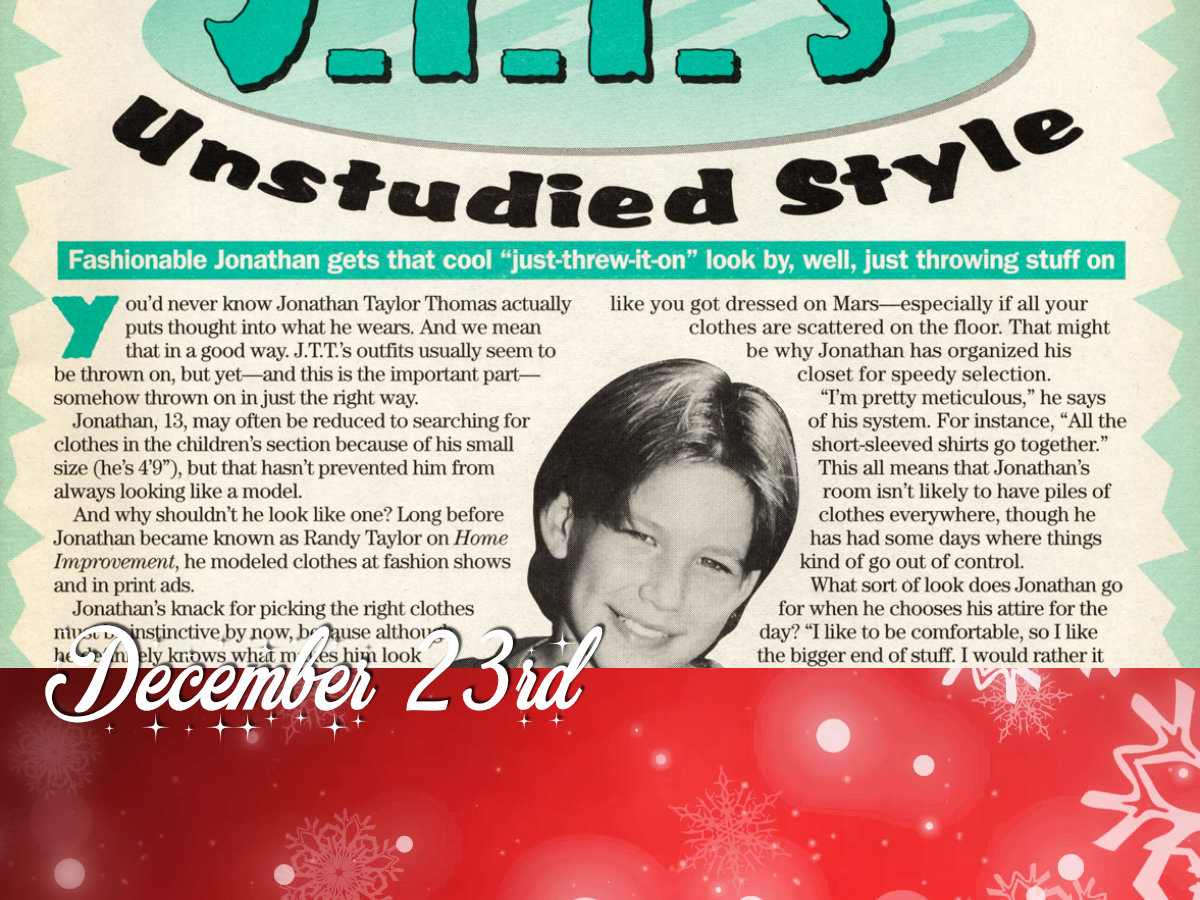 Today a few styling tips from a 13 year old Jonathan. If you ever wondered how he got that unstudied style, you may find the answer reading this.
J.T.T's unstudied style
Fashionable Jonathan gets that cool "just-threw-it-on" look by, well, just throwing stuff on
You'd never know Jonathan Taylor Thomas actually puts thought into what he wears. And we mean that in a good way. J.T.T.'s outfits usually seem to be thrown on, but yet—and this is the important part – somehow thrown on in just the right way.
Jonathan, 13, may often be reduced to searching for clothes in the children's section because of his small size (he's 4'9"), but that hasn't prevented him from always looking like a model.
And why shouldn't he look like one? Long before Jonathan became known as Randy Taylor on Home Improvement, he modeled clothes at fashion shows and in print ads.
Jonathan's knack for picking the right clothes must be instinctive by now, because although he definitely knows what makes him look hip and what makes him look like a drip, Jonathan usually really does just grab whatever is handy.
"It's like, when I get done with my day, I don't have time to lay out my clothes," he tells us. "And then, when I get up in the morning, I want to get in the car because we have a commute into work. It's like, 'That looks good,' so I wear it."
If Jonathan can manage time to plan what he's going to wear the next day, he will, especially if the next day is a special occasion. "But if it's a regular workday – I mean, if it's on the set – it's like what's comfortable. You come in anything."
Jonathan realizes the downside to the just-grab-anything approach is that you can end up looking like you got dressed on Mars – especially if all your clothes are scattered on the floor. That might be why Jonathan has organized his closet for speedy selection.
"I'm pretty meticulous," he says of his system. For instance, "All the short-sleeved shirts go together." This all means that Jonathan's room isn't likely to have piles of clothes everywhere, though he has had some days where things kind of go out of control.
What sort of look does Jonathan go for when he chooses his attire for the day? "I like to be comfortable, so I like the bigger end of stuff. I would rather it be too big than small. I like all different types of clothing, I guess, kind of funky clothes. A lot of Gotcha and Quicksilver. Different vests; a lot of layered stuff, which is kind of hard in the summer. All of my cool clothes are for winter." Jonathan often shops in places a little off the beaten track. "It may sound weird, but you find a lot of cool stuff in thrift stores," he says. "You find a lot of older stuff, and it has a used, cool look to it. Like my jacket."
Jonathan showed off this jacket to us at a recent photo shoot. It very much has a lived-in feel. It's a navy-blue wool varsity sort of thing with red striped ribbing around the neck and collar – worn and weathered, the satin lining crumbling at the seams. J.T.T. put it on, and that's when we couldn't help notice the jacket's familiar flair. It was thrown on. But somehow in just the right way.
Source: BB Magazine
Date: Spring 1994
Author: unknown

Related Images: