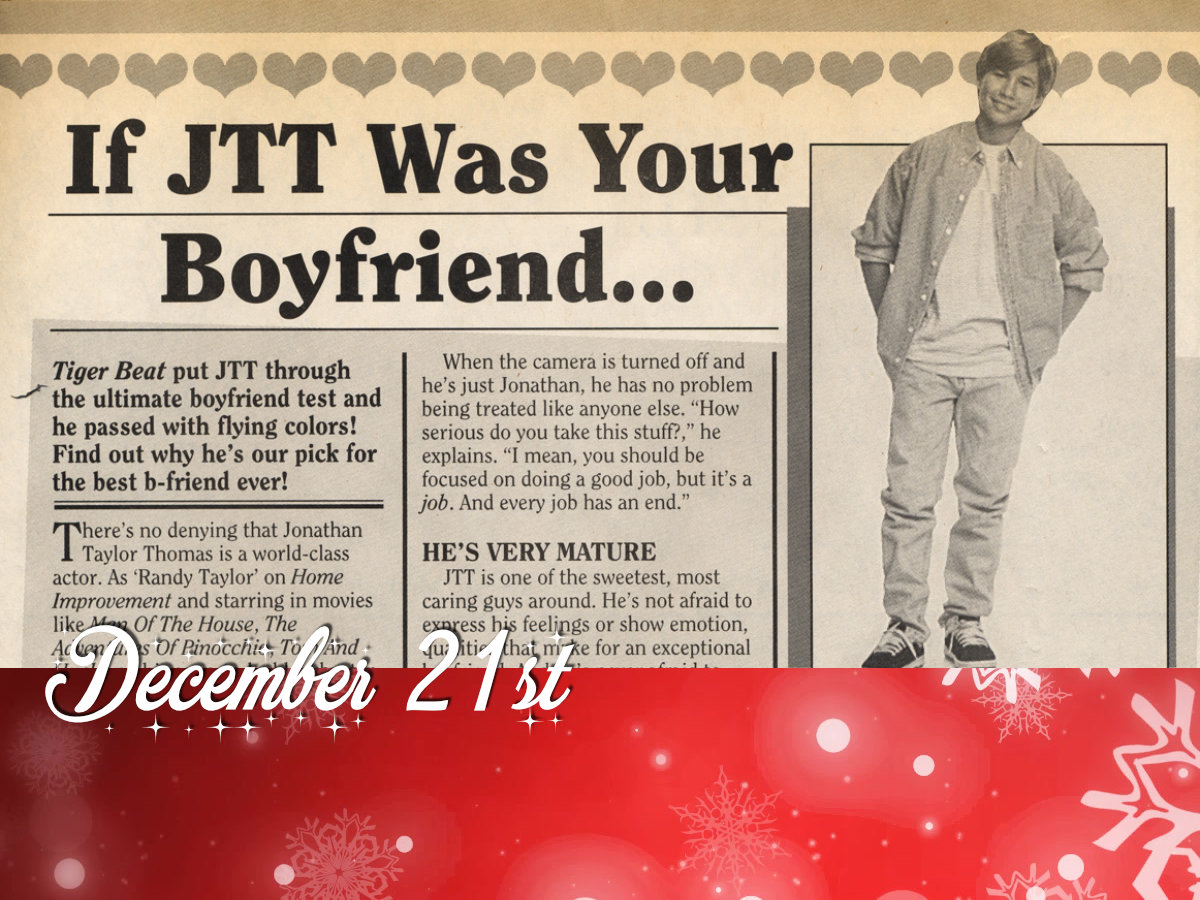 Ever wondered what it would be like to have Jonathan as your boyfriend? This article from a 1996 issue of Tiger Beat answers the question.
If JTT was your boyfriend…
Tiger Beat put JTT through the ultimate boyfriend test and he passed with flying colors! Find out why he's our pick for the best b-friend ever!
There's no denying that Jonathan Taylor Thomas is a world-class actor. As 'Randy Taylor' on Home Improvement and starring in movies like Man Of The House, The Adventures Of Pinocchio, Tom And Huck and his soon-to-be blockbuster Wild America, JTT has quickly become one of Hollywood's hottest young talents and has captured hearts all over the world. But what about the real Jonathan? Would he make a good boyfriend? Is he really as great as he seems or is it all an act?
Well, Tiger Beat did some serious investigative work and found out the truth about Jonathan. What did we learn? Basically, that any girl would be lucky to have Jonathan as a boyfriend. Here's why!
He's down-to-earth
Though Jonathan is a mega-star, he certainly isn't tripping over his own ego! If anything, JTT is constantly struggling with trying to stay a normal teenager who just happens to have a hit TV series and an exploding movie career. "You can't be trapped in this bubble called the acting industry," he says. "The industry is neurotic and weird, and so when I go home and I play basketball with my friends, I'm not Jonathan Taylor Thomas. I'm just Jonathan."
He likes to have fun!
Sure JTT is dedicated when he's working, but he's also an extremely entertaining guy! He loves to crack jokes, tell funny stories and laugh a lot! He also likes ter do stuff like play sports (basketball is one of his faves), go fly fishing and listen to groups like Hootie & the Blowfish and Dave Matthews Band.
When the camera is turned off and he's just Jonathan, he has no problem being treated like anyone else. "How serious do you take this stuff?," he explains. "I mean, you should be focused on doing a good job, but it's a job. And every job has an end."
He's very mature
JTT is one of the sweetest, most caring guys around. He's not afraid to express his feelings or show emotion, qualities that make for an exceptional boyfriend. And he's never afraid to stand up for what he believes, regardless if it's cool or not. "Every day we have to make the decision about what's right and what's wrong," JTT says. "You just kind of have to follow your heart and make the right decision and hopefully it works out okay. And, you know, miracles are made in the heart."
He's socially conscious
A concerned person who's involved in a number of humanitarian organizations, JTT always has a cause he's working for! Recently, he co-hosted Nickelodeon's wildly successful Big Help-A-Thon, which raised over 92.5 million hours in volunteer services! JTT also does a lot of charity work for, he says, "things that I think are important and I believe in." A devout vegetarian since he was a little kid, JTT is an animal lover who enjoyed working with the stable of furry and feathered friends in his upcoming film Wild America!
He's got a great taste
Whether it's the people he hangs out with or the girls he finds attractive, Jonathan is a class act all the way! Qualities such as honesty, dependability, kindness and intelligence go a long way with Jonathan.
One of the things that he admired about his character 'Tom Sawyer' in Tom And Huck was that he's a loyal person. "He has all the qualities that I would look for in a friend," Jonathan told us. "He's got leadership abilities. He can always be counted on."
When it comes to girls, Jonathan finds many of the same things appealing. "Smart, fun, kind and understanding," he says describing his dream girl. Does that someone sound like you?
He's intelligent
Besides his career, one of JTT's biggest priorities is school. This 14-year-old high school freshman is a conscientious student who loves to learn! One of his favorite subjects is English (Harper Lee's classic novel To Kill A Mockingbird is one of his top picks) and he gets great grades in all of his subjects. Though he's only a freshman, JTT has already visited numerous college campuses around the country, including prestigious schools like Yale, Harvard and New York University. Where education is concerned, JTT doesn't fool around!
"You can't base your life around one thing. So that's why I focus on school," he says. "Sometime my (career) will change, and I'll have my education to fall back on."
There you have it! With all of his wonderful qualities, it's no wonder why JTT would be a perfect guy for any lucky girl!*
Source: Tiger Beat
Date: Fall 1996
Author: unknown

Related Images: