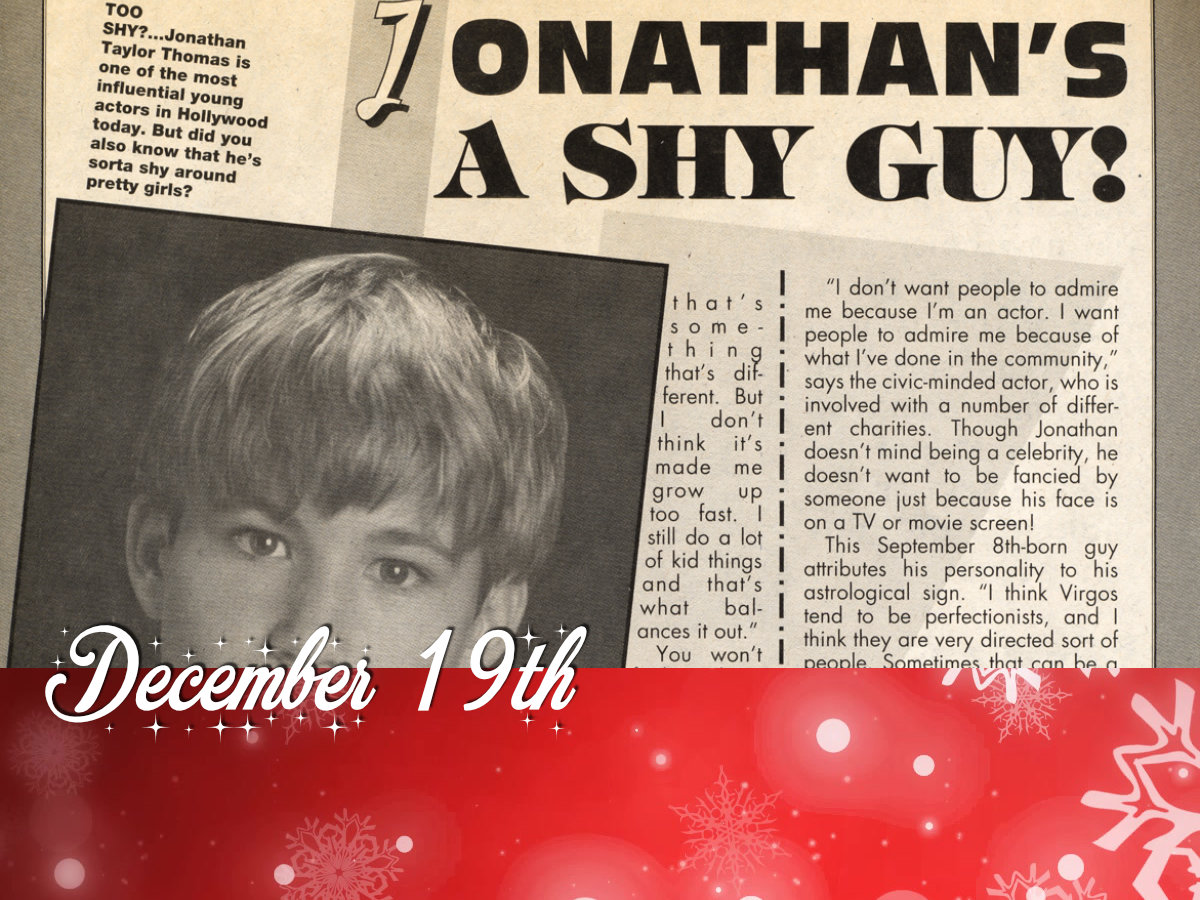 Today's feature in the countdown for Christmas tells us that Jonathan actually was a shy guy, and a little about the rumours about his love-life at the time in 1996-97.
Jonathan's a shy guy
Jonathan Taylor Thomas is the rare combination of a star who does it all and a regular teenage boy who has a hard time asking out a girl. Get the inside scoop on what the real JTT is like!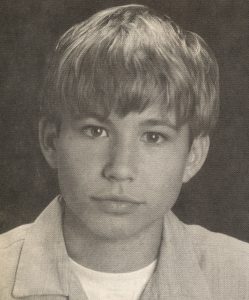 Just because Jonathan Taylor Thomas is one of the most famous 15-year-olds ever, it doesn't mean that he acts it. In fact, JTT is way shyer than most guys his age! As grown up as he is professionally, he couldn't be a more normal kid in his personal life. "I've had experiences that most kids wouldn't have had," admits Jonathan. "I'm constantly surrounded by adults, so that's something that's different. But don't think it's made me 'grow up too fast. I still do a lot of kid things and that's what balances it out."
You won't find JTT dancing his butt off at the latest club or partying the nignt away at a glitzy gala, instead, he hangs with his core group of close friends, many of whom aren't involved in showbiz. "I'm a fairly private person and I'm lucky that the things I like to do don't involve large groups," he explains. "I'm not a group type person. I'll have one or two friends come over, something like that. I like being in the outdoors and I like being alone sometimes." JTT is likely to be found fly fishing at a quiet lake, reading a good book or cnilling at home with a great video!
Put him on a movie set or in a high-powered meeting with a top Hollywood producer and JTT's completely at ease, but when he's around girls he finds appealing, it's a whole different story. Though dating is not a priority at this point in his hectic life, JTT has admitted, "I'd like to find an extra-special girl." The trouble is, with someone of his superstar status, it certainly isn't easy!
"I don't want people to admire me because I'm an actor. I want people to admire me because of what I've done in the community," says the civic-minded actor, who is involved with a number of different charities. Though Jonathan doesn't mind being a celebrity, he doesn't want to be fancied by someone just because his face is on a TV or movie screen!
This September 8th-born guy attributes his personality to his astrological sign. "I think Virgos tend to be perfectionists, and I think they are very directed sort of people. Sometimes that can be a good thing and sometimes a bad thing," says JTT. "They don't settle for anything less than the best. We tend to be very picky." That definitely extends to girls. His first real girlfriend is someone he says will have to be "smart, fun, kind, understanding, basically that."
With someone as attractive, charming and talented as Jonathan, there will always be rumors surrounding his love life like his supposed romantic links with Tom And Huck costar Rachael Leigh Cook (with whom he shared nis first screen kiss), Kirsten Dunst and Boy Meets World's Danielle Fishel, all who are just friends. But such scrutiny about his personal world doesn't get JTT down, he knows it comes with the package of being famous. "I realize I am in the public eye and people watch what I do," he explains.
But, JTT is really content to live the quiet private life of an average teenager when he's not under the spotlight. In fact, he turns to his cats Sami and Simba when he thinks about his ideal existence. "They get to sleep 18 hours a day. They're independent, too," says Jonathan with a smile. "They like to curl up in a ball in the sunshine – that sounds good to me!"
Source: unknown
Date: 1996-97
Author: unknown

Related Images: