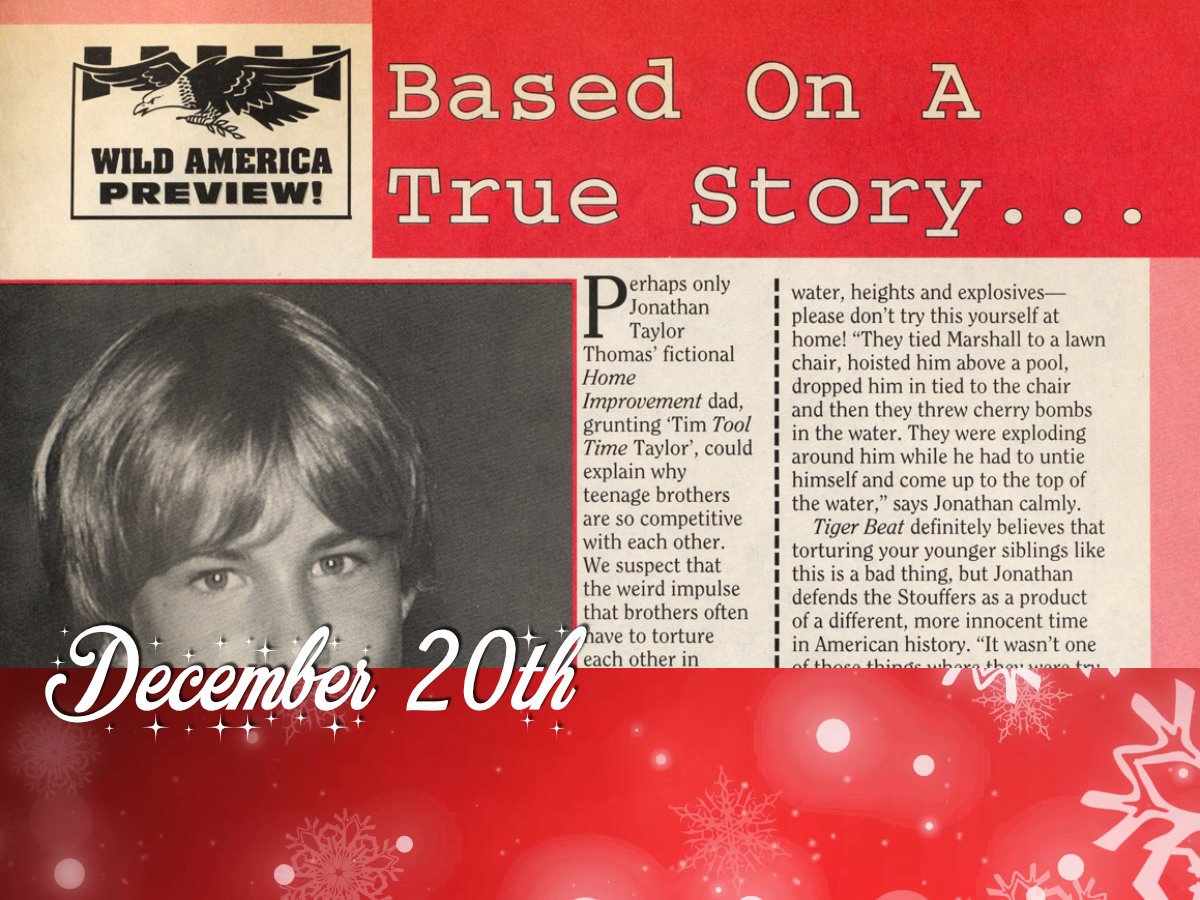 A little more on Wild America in our countdown for Christmas. This article from a spring 1997 issue of Tiger Beat.
Wild America Preview!
Based on a true story…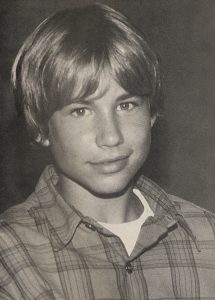 Perhaps only Jonathan Taylor Thomas' fictional Home Improvement dad, grunting 'Tim Tool Time Taylor', could explain why teenage brothers are so competitive with each other.
We suspect that the weird impulse that brothers often have to torture each other in strange and unusual ways goes all the way back to the caveman! In the upcoming film Wild America, poor JTT survives some pretty tough pranks, stunts and dangerous escapades all instigated by his loving older brothers!
Some of the biggest challenges that Jonathan faced while playing the role of 'Marshall' in the film about the teenage years of America's premiere wildlife documentary-making brothers came when it was time to film the stunts. "The brothers were wild," says Jonathan of the characters 'Mark' and 'Marty' played by Devon Sawa and Scott Bairstow. "They always had a camera in their hands and they'd put Marshall, the younger brother, into these situations and they'd film it. They lived in a rural part of the country in 1967 where you could get away with that."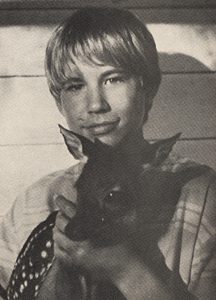 The most elaborate of Mark and Marty's dangerous challenges for their younger brother included water, heights and explosives – please don't try this yourself at home! "They tied Marshall to a lawn chair, hoisted him above a pool, dropped him in tied to the chair and then they threw cherry bombs in the water. They were exploding around him while he had to untie himself and come up to the top of the water," says Jonathan calmly.
Tiger Beat definitely believes that torturing your younger siblings like this is a bad thing, but Jonathan defends the Stouffers as a product of a different, more innocent time in American history. "It wasn't one of those things where they were trying to hurt him. It wasn't real malicious. Marshall would get out and they'd go 'All right! Way to go! Nice job!"' he explains. "I don't know if you could get away with dumb stuff like that living in an urban area. It was a different place in a different time." Talk about brotherly love!
Luckily, Jonathan's real life older brother Joel never, ever treated JTT like that. "No way!" he says with a laugh. "My brother hasn't done anything like that to me."
Wild America is the first time Jonathan has ever played the role of a real live person. Mark – the guy who Devon plays in the film – is one of the movie's producers and all three real life Stouffer brothers, who are now in their 40s, visited the set to meet the actors who will play them on the big screen.
"I met the real Marshall after filming started," Jonathan says. "He's great. All the Stouffer brothers are great. They're all adults and they still continue to make wildlife films. They're real interesting people to talk to. They were fun, they were excited and just real down-to-earth people."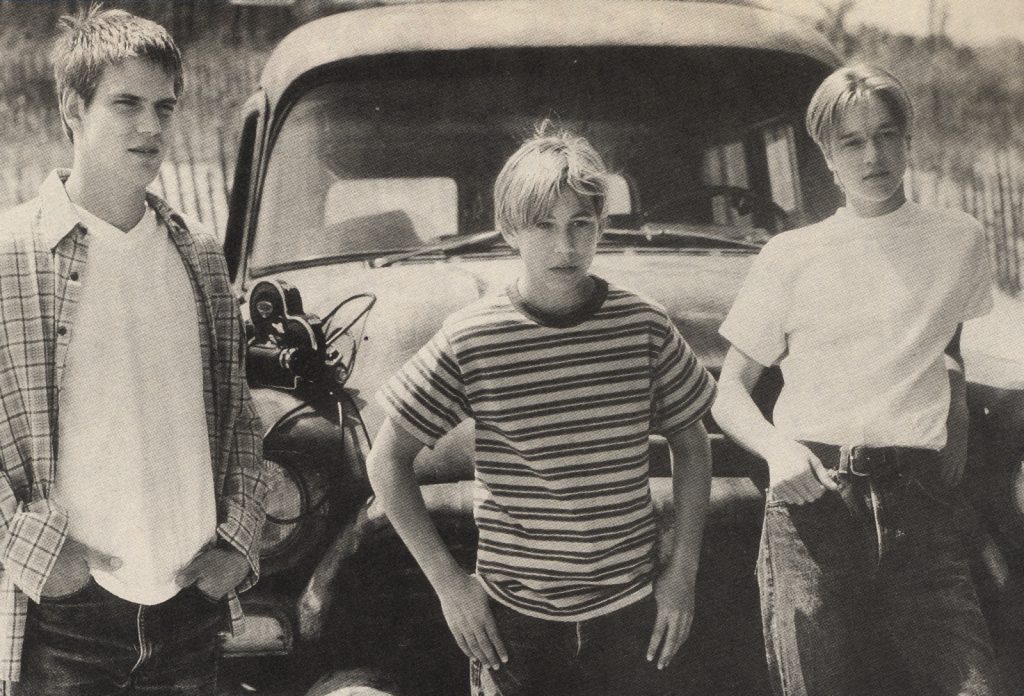 The oldest Stouffer brother grew up to become the host of Marty Stouffer's Wild America, a nature series which has run for more than a decade on PBS. Second brother Mark was a contributing director to the series and did many National Geographic specials too. Youngest brother Marshall also followed in his brothers' footsteps by making a career of capturing wild animals on film.
To play Marshall, Jonathan tried to capture the emotion and spirit of a sensitive 12-year-old kid growing up with a strict dad, a loving mom and two older brothers who love to tease him. Justifiably proud of the emotional work he did, Jonathan was quite surprised to notice his physical similarities with the real life Marshall. "I think Marshall and I do actually sort of look alike but I don't know if that was done on purpose," says Jonathan. "It was different because these people are alive and there. You want to do justice when you're playing their character."
Wild America was filmed last summer on location in Savannah, Georgia, and at wilderness locations in Canmore, Drumheller and Calgary, Canada. It's in these scenes where Jonathan's character uses the strength and toughness he developed through years of his older brothers' taunting. "The boys encounter alligators, bears, moose and everything you could imagine," he explains. One very funny sequence even has Jonathan's character getting himself caught in the antlers of a real live moose! "In search of these wild animals, they run into a lot of things and they sort of have to take care of themselves, work with each other and try to survive the summer in order to get back to Fort Smith," he explains.
At presstime, Tiger Beat learned that Wild America will be coming to a theater near you this summer – probably in July or August. Keep an eye on TB or visit our official web page at http://www.nextlevel.com/tigerbeat for more information about what promises to be the wildest movie of the summer!
Source: Tiger Beat
Date: Spring 1997
Author: unknown

Related Images: