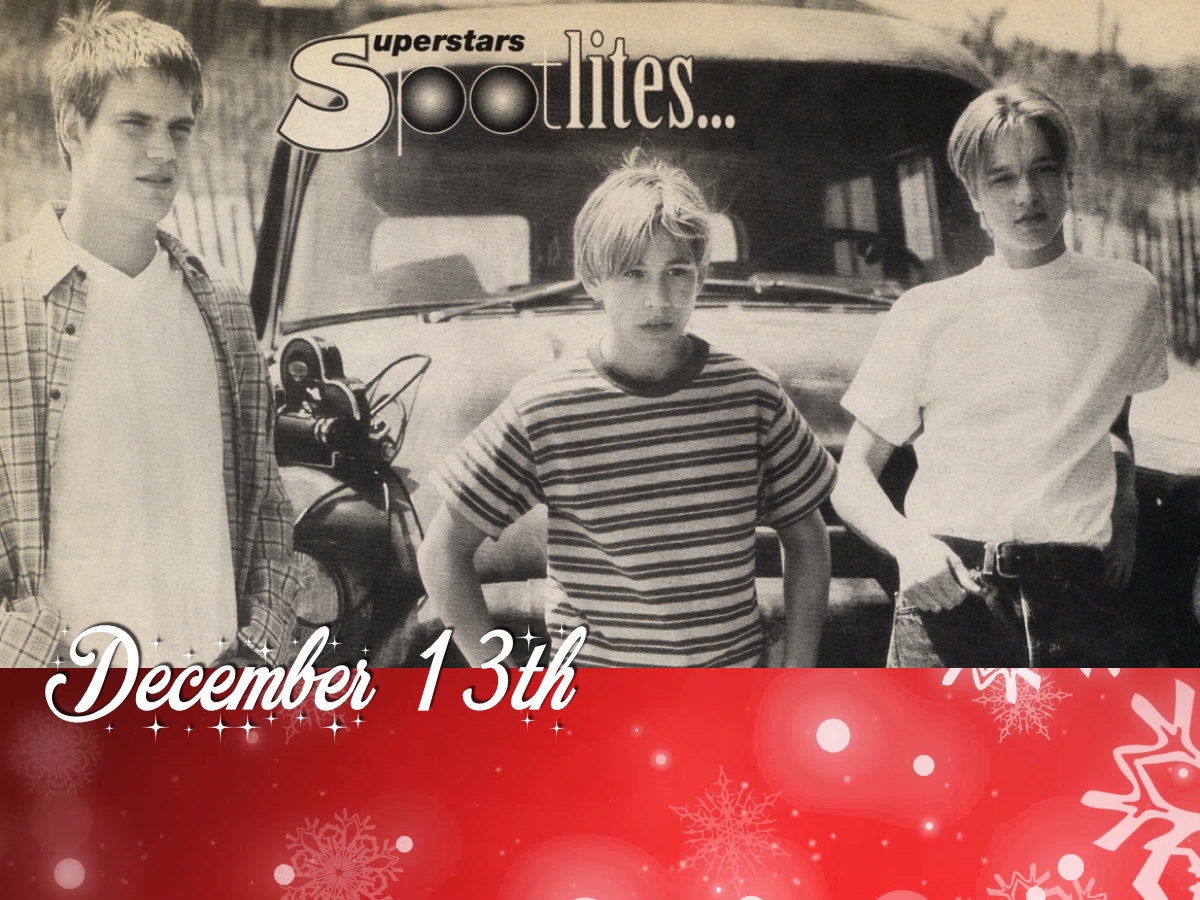 The September 1997 issue of teen magazine SuperStars takes a sneak preview of Wild America.
It's a
Wild America
Sneak Preview!
Superstars scopes out Jonathan, Devon & Scott's New Flick!
It's a can't lose proposition. Team up three of today's hottest young actors—Home Improvement's Jonathan Taylor Thomas, Now And Then's Devon Sawa and White Fang ll's Scott Bairstow—in the true-life story of three aspiring nature photographers and you've got this summer's must-see movie—Wild America!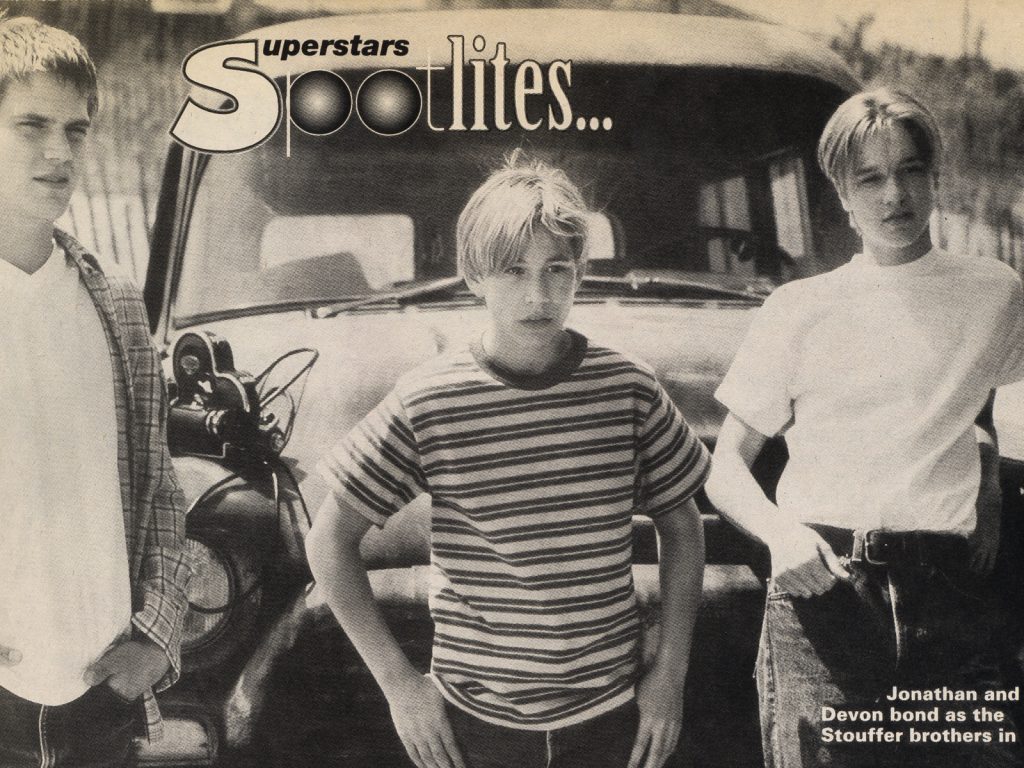 What A Story
So what made stars like Jonathan, Devon and Scott interested in doing Wild America? Easy—it's a great story! Wild America follows the true-life adventures of wildlife photographers Marty, Mark and Marshall Stouffer before they were world-renowned naturalists—as a matter of fact, Wild America joins up with the Stouffer brothers before they were anything but dreamers!
When the brothers grew up in the late '60s in Fort Smith, Arkansas, they were all video buffs who made their own home movies complete with stunts. Their rural house was always filled with animals of some sort, usually strays or hurt wild animals that the Stouffers nursed back to health before rereleasing them into the wild. But everything changed in the summer of 1967, when oldest brother Marty Stouffer got his hands on a professional quality video camera and decided to go after his dream of becoming a wildlife photographer. With the help of his two younger brothers, Marty set out to capture enough wildlife on videotape to make a name for himself.
Wild America is told from the point of view of the youngest Stouffer brother, Marshall (played by JTT), who refuses to more wild be left out of his older brothers plans. Because the story is true, the makers of Wild America had to search extra hard for three talented young actors who not only could play the real life photographers, but looked like brothers as well. Enter JTT, Devon and Scott, the perfect fit!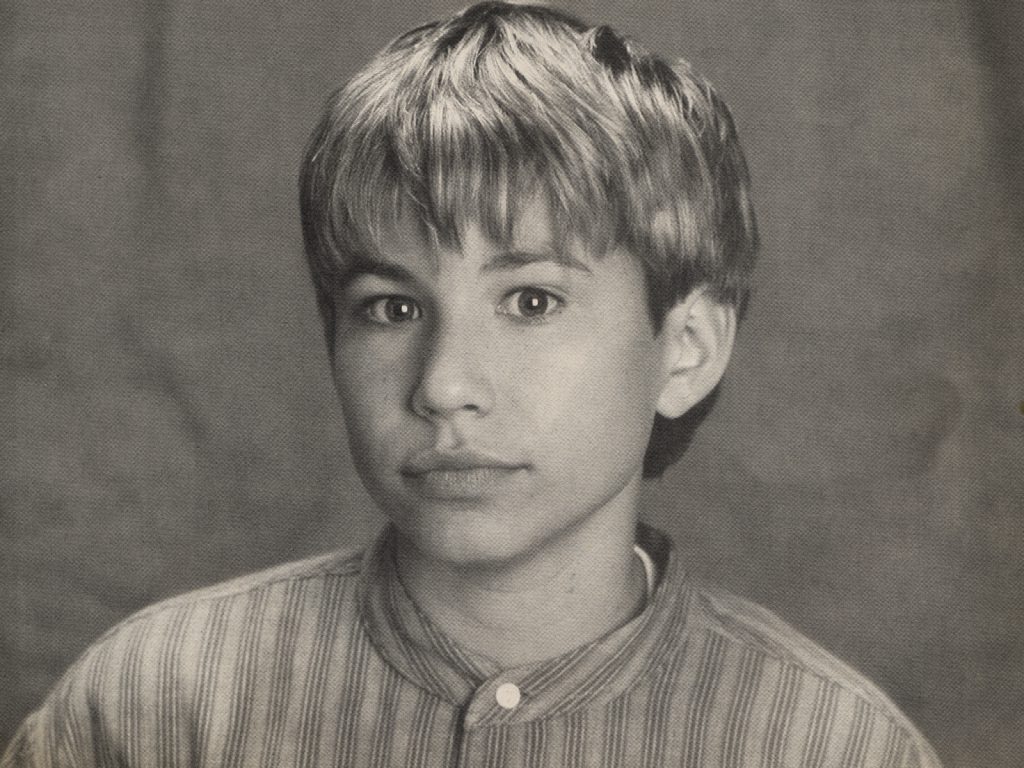 Talk About A Perfect Match!
Not only are JTT, Devon and Scott three of the most talented young actors around, but they also look as though they really could be brothers! The resemblance was immediately noticeable to JTT. "One of the reasons the producers picked Devon, Scott and me to play the Stouffer brothers is because we do look alike," said he. "The blonde hair and blue eyes." And then of course there was their acting skill—the three professionals each had a lot of talent and experience to bring to their roles. "They're great actors" said JTT about his co-stars. "They're really good." The guys played off of each other and learned from each other as well. "When you have people like that surrounding you, it makes you come up a level also," said Jonathan. So the producers knew that would JTT, Dev and Scott, there was no way they could miss!
There was also another reason that Jonathan was such a perfect choice to play youngest brother Marshall Stouffer—he's a huge fan of the nature shows that the Stouffer brothers do! "I've watched a lot of those shows" said JTT. "They're really interesting. You get to see wildlife in its true surroundings, and you get to see the beauty of wildlife while it's still around."
Starring in Wild America would give JTT the chance to go behind the scenes with some of America's top nature photographers, so of course he jumped at the role!
What a blast!
But no matter how good the casting, it isn't till you get the actors together on the set and start working that you can see if there's any chemistry. Since JTT, Devon and Scott were playing a family, it was extra important for them to develop the chemistry of real-life brothers. "We probably had a week of rehearsals [before filming began] where we saw each other every day," Jonathan told us about the experience. "We were rehearsing and having a lot of fun and laughing, and it helped. There certainly was a brother-like feeling there." Middle brother Devon agreed wholeheartedly. "It was weird because we got along so great," he said. "It was really like we were three brothers."
The guys had a blast together once filming officially began. "We joked around a lot, but it was all in fun," said JTT. "We'd tease each other and stuff like that." Of course, the real Stouffer brothers did quite a bit of teasing too, so all the offscreen hijinks only added to the realism of the film. When they needed to get away for a while, the guys would sometimes head into town from whatever location they were on to catch a movie or a bite to eat. "We had a lot fun hanging out," said JTT—but we bet the lucky locals who caught sight of this hunky trio had an even better time!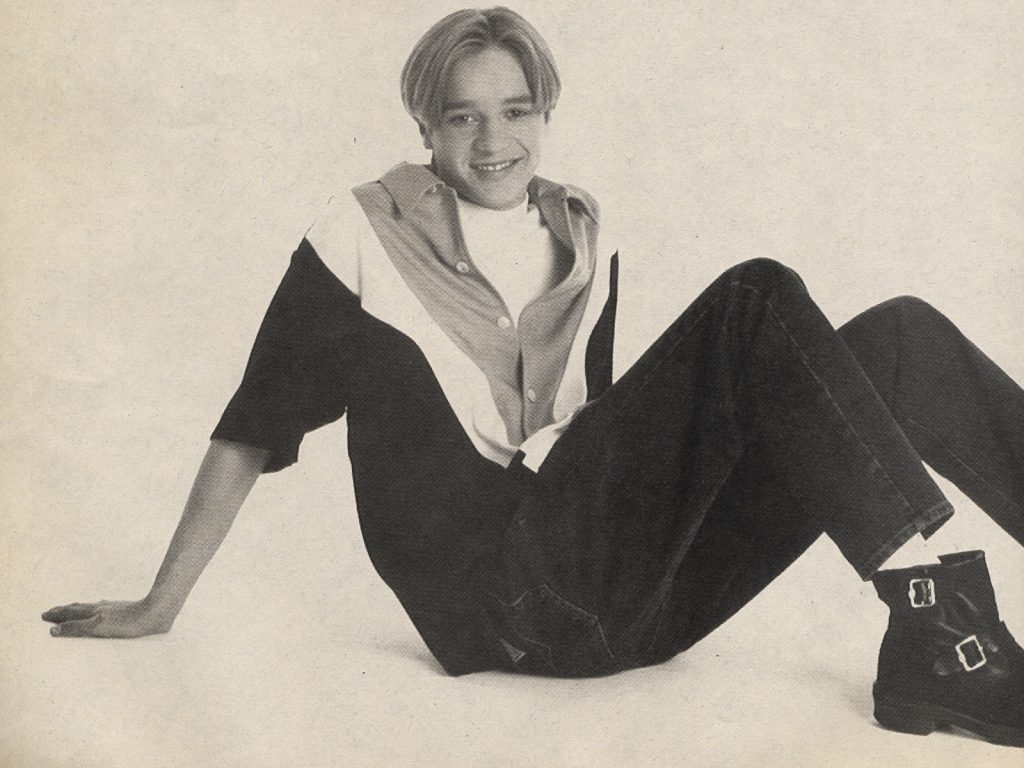 A real Wild-Life adventure!
The main plot of Wild America follows the Stouffer brothers as they head across country one summer to film as much wildlife as they can. For the actors recreating their journey, that meant lots of travel from one cool location to another, and lots of close encounters with animals. "It's every guy's dream," said Devon of his work on Wild America. With locations in Savannah, Georgia, Canada and the Western United States, the guys got to see a lot of different types of landscapes, and climates from desert to snow. But it was the animals who really stole the guys' hearts. "There were so many different kinds of animals we worked with," said Jonathan. "An owl, baby deer, baby possums, all kinds of dogs, rattlesnakes, eagles, bears, moose and elk. It was neat to be so close and get to work with them. It was great." All of the animals had trainers working with them, but the guys still treated the critters with the respect they deserve. "Even though they're tame, they're still wild animals, they still have that something in them," said JTT. "So you don't want to aggravate that and you have to respect that. You always have to be careful, so we were."
A Shure-Fire Hit!
With a cast and story like this, there's no way Wild America can be anything but a sure-fire hit. It comes to a theater near you around July 20, so keep an eye out.
Source: SuperStars
Date: September 1997
Author: unknown

Related Images: