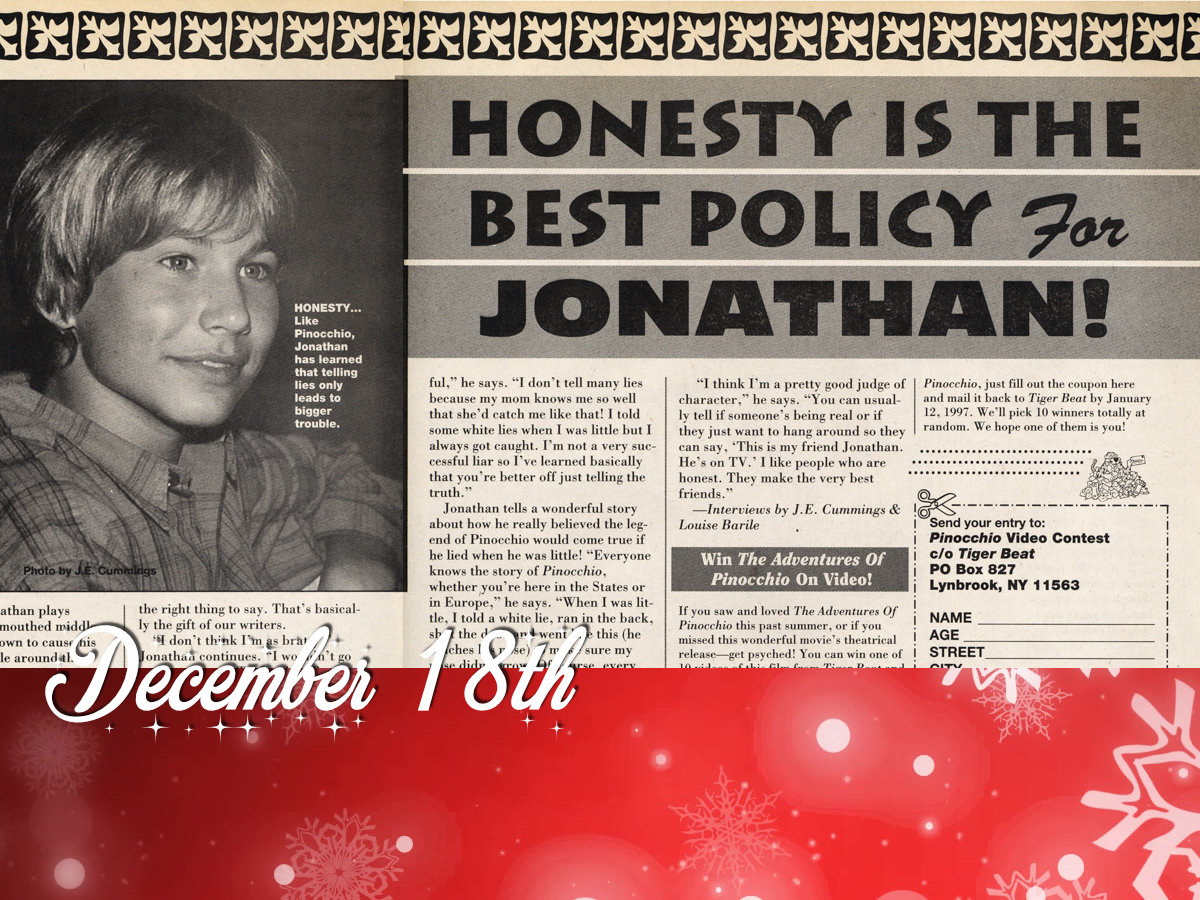 Day 18th of the 25 days of Christmas features an interview with Jonathan from a Fall 1996 issue of Tiger Beat with the subject of Honesty.
Honesty is the best policy for Jonathan!
Just like the character he plays in The Adventures Of Pinocchio, Jonathan learned to never tell a lie!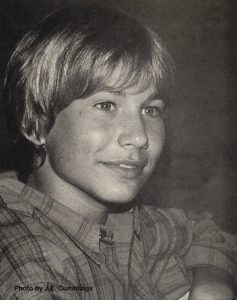 With so many movie roles to choose from but only a few weeks every year to star in projects other than his TV series Home Improvement, 15-year-old Jonathan Taylor Thomas has to be very picky about the films he makes. He particularly looks for scripts with good values, strong characters and a lesson to be shared with the audience.
Choosing to film The Adventures Of Pinocchio last summer was a no-brainer – it's a wonderful family story which has entertained and thrilled kids for centuries!
"I think the reason this story has stuck around so long is because even though it was written a couple of hundred years ago it still applies to today," remarks Jonathan, who filmed the movie on location in Prague, Czechoslovakia. In The Adventures Of Pinocchio, Jonathan plays the voice of the puppet and then appears at the very end when Pinocchio's wish to become a real live boy comes true! Along the way, Pinocchio also learns some very valuable lessons.
"Pinocchio has to deal with peer pressure, whether he wants to hang out with the group of kids and do bad things or do the right thing and leave," explains Jonathan. "All kids have to do that in real life. Everyone has to learn the difference between right and wrong at some point." Although you may imagine that someone as popular and famous as Jonathan has never had to deal with issues like peer pressure and cliques, he's been there, too!
"I know, as a teenager, the feeling of wanting to fit in," he says. "We're all presented with decisions in life.
Every single day, we're forced to make those choices. We just kind of have to – like Pinocchio – sort of follow your heart and make the right decision."
Mr. Wise guy?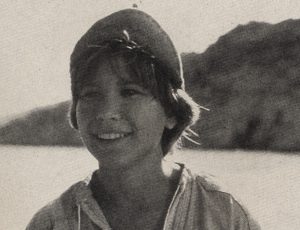 On Home Improvement, Jonathan plays 'Randy,' the wise-mouthed middle son who's been known to cause his fair share of trouble around the 'Taylor' home. Although Jonathan admits that there's a little bit of mischievous Randy in him, in real life he's a sweet guy who'd never intentionally try to hurt anyone.
But the line between the real Jonathan and the character he plays so convincingly can be blurry sometimes and more than a few fans of the show have scolded Jonathan, the actor, for things his Home Improvement character has done on TV! "People come up to me sometimes and say, 'You're such a brat!' or 'You shouldn't be so mean to your little brother!'" he explains. "But I'm not as wise alecky as my character. Randy always has that funny little comment to throw in. I'm pretty humorous, but Randy always has the right thing to say. That's basically the gift of our writers.
"I don't think I'm as bratty," Jonathan continues. "I wouldn't go as far as Randy Taylor does."
Jonathan credits his mom Claudine for helping him become the non-bratty, honest guy he is today. "I know the rules and I know what I can and can't do," he says. "I don't do too many things that deserve discipline. I mean, I'm basically pretty good. But my mom definitely watches me. She watches my grades and how I'm doing in school. She wants to know where I'm going with my friends. I think that's great – that's what a parent is supposed to do!"
Honestly honest!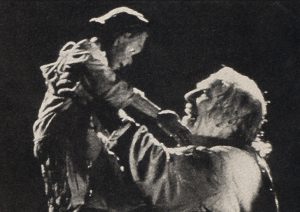 Like Pinocchio, Jonathan learned really early in life that telling lies only gets you into more and more trouble. "I always try and be truthful," he says. "I don't tell many lies because my mom knows me so well that she'd catch me like that! I told some white lies when I was little but I always got caught. I'm not a very successful liar so I've learned basically that you're better off just telling the truth."
Jonathan tells a wonderful story about how he really believed the legend of Pinocchio would come true if he lied when he was little! "Everyone knows the story of Pinocchio, whether you're here in the States or in Europe," he says. "When I was little, I told a white lie, ran in the back, shut the door and went like this (he touches his nose) to make sure my nose didn't grow! Of course, every kid believed the story!"
Nobody older believes that a liar's nose will really grow, but Jonathan admits that he likes to surround himself with other people who are honest.
"I think I'm a pretty good judge of character," he says. "You can usually tell if someone's being real or if they just want to hang around so they can say, 'This is my friend Jonathan. He's on TV.' I like people who are honest. They make the very best friends."
—Interviews by J.E. Cummings & Louise Barile
Win The Adventures Of Pinocchio On Video!
If you saw and loved The Adventures Of Pinocchio this past summer, or if you missed this wonderful movie's theatrical release – get psyched! You can win one of 10 videos of this film from Tiger Beat and New Line Cinema.
Filmed on location in Europe, The Adventures Of Pinocchio tells the heartwarming tale of a kindly woodcutter (played by veteran actor Martin Landau) who carves a special puppet out of wood.
Magically, the wooden boy he names 'Pinocchio' comes to life (with a voice supplied by JTT) and has many adventures on the way to fulfilling his heart's desire – to become a real live boy!
To win your very own copy of The Adventures Of Pinocchio, just fill out the coupon here and mail it back to Tiger Beat by January 12, 1997. We'll pick 10 winners totally at random. We hope one of them is you!
Source: Tiger Beat
Date: Fall 1996
Author: J.E. Cummings & Louise Barile

Related Images: