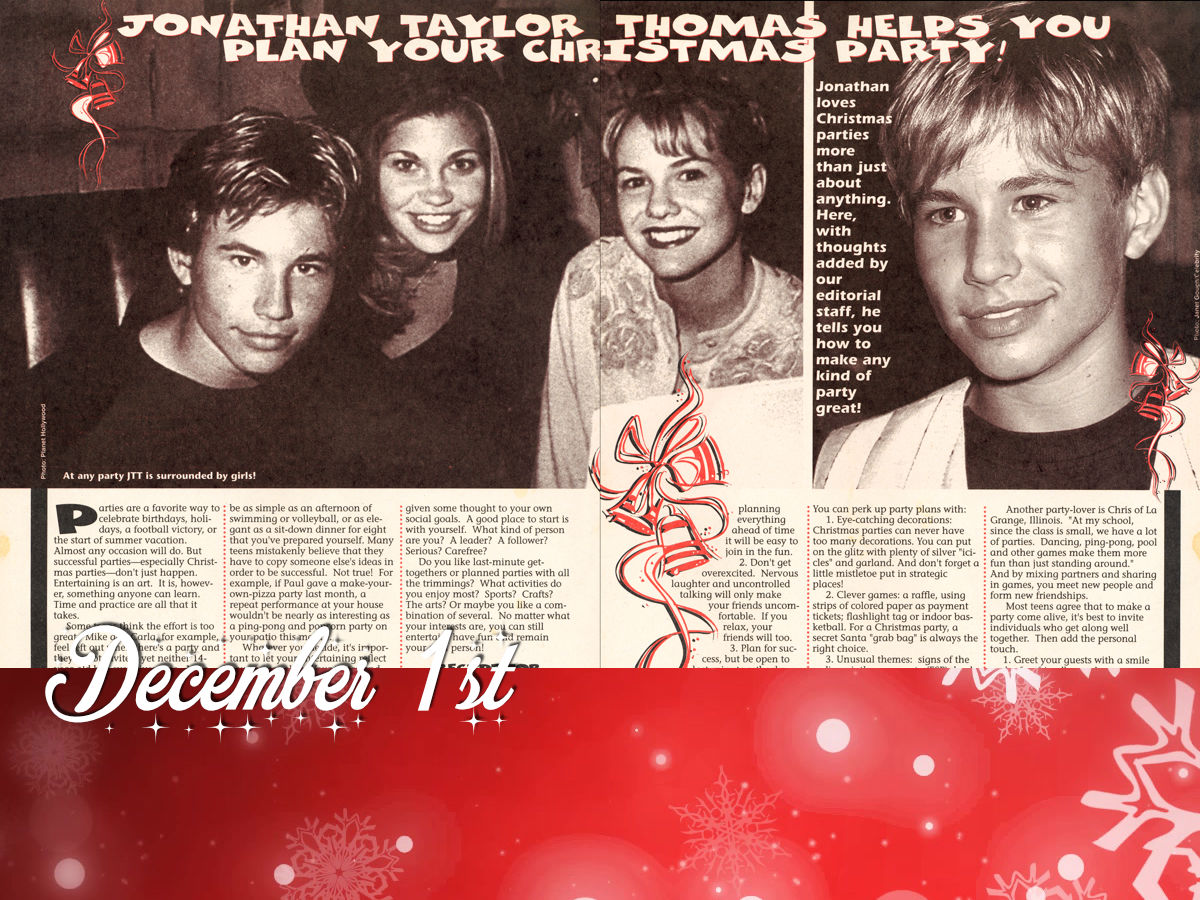 Starting 25 days of Christmas with a little guide on how to plan the perfect party from 1997 issue of 16 Magazine. Each day until Christmas we will post an article from the archive.
Parties are a favorite way to celebrate birthdays, holidays, a football victory, or the start of summer vacation.
Almost any occasion will do. But successful parties—especially Christmas parties—don't just happen. Entertaining is an art. It is, however, something anyone can learn. Time and practice are all that it takes.
Some teens think the effort is too great. Mike and Carla, for example, feel left out when there's a party and they're not invited, yet neither 14-year-old has ever given one. Mike says it sounds like a lot of trouble and costs too much. And Carla claims her house isn't big enough to handle a group of teenagers.
Neither realizes that you don't have to spend a lot of money or live in a mansion to entertain friends. Most people enjoy the company and conversation much more than the food or location.
A get-together at your place can be as simple as an afternoon of swimming or volleyball, or as elegant as a sit-down dinner for eight that you've prepared yourself. Many teens mistakenly believe that they have to copy someone else's ideas in order to be successful. Not true! For example, if Paul gave a make-your-own-pizza party last month, a repeat performance at your house wouldn't be nearly as interesting as a ping-pong and popcorn party on your patio this month.
Whatever you decide, it's important to let your entertaining reflect your personality. Your tastes and talents will make it unique—different from any other party.
We've all known people who work at being popular. They listen to rock when they prefer R&B music, drink or smoke because it seems like the thing to do, experiment with pot and sex to prove something, or dress and talk to please others.
Unless you really like what's "in," consider staying "out"—until you've given some thought to your own social goals. A good place to start is with yourself. What kind of person are you? A leader? A follower? Serious? Carefree?
Do you like last-minute get-togethers or planned parties with all the trimmings? What activities do you enjoy most? Sports? Crafts? The arts? Or maybe you like a combination of several. No matter what your interests are, you can still entertain, have fun and remain your own person!
Jonathan loves Christmas parties more than just about anything.
Here, with thoughts added by our editorial staff, he tells you how to make any kind of party great!
Recipe for success
If there is any secret to successful entertaining, it is making your guests feel at home. This takes a special blend of enthusiasm, imagination and friendship.
Enthusiasm is contagious. Spread it around.
Be relaxed and happy yourself. Even though you're in charge, you can get into the spirit. By carefully planning everything ahead of time it will be easy to join in the fun.
Don't get overexcited. Nervous laughter and uncontrolled talking will only make your friends uncomfortable. If you relax, your friends will too.
Plan for success, but be open to last-minute setbacks. You can handle problems with a smile. If the punch spills, it's possible to take care of it without spoiling everyone else's fun.
Imagination
To make your party special, why not plan something unexpected? Your creativity is your only limit.
You can perk up party plans with:
Eye-catching decorations: Christmas parties can never have too many decorations. You can put on the glitz with plenty of silver "icicles" and garland. And don't forget a little mistletoe put in strategic places!
Clever games: a raffle, using strips of colored paper as payment tickets; flashlight tag or indoor basketball. For a Christmas party, a secret Santa "grab bag" is always the right choice.
Unusual themes: signs of the zodiac, sixth-sense party (ESP), back-to-school brunch, potluck recipe exchange, backyard camp-out, or an international fiesta. You can combine any of these suggestions with a general Christmas theme.
Friendship
"Good games, good food, and good company make a party fun," says one thirteen-year-old, Janine, an avid party-goer and party-giver.
Another party-lover is Chris of La Grange, Illinois. "At my school, since the class is small, we have a lot of parties. Dancing, ping-pong, pool and other games make them more fun than just standing around."
And by mixing partners and sharing in games, you meet new people and form new friendships.
Most teens agree that to make a party come alive, it's best to invite individuals who get along well together. Then add the personal touch.
Greet your guests with a smile and a few friendly words.
Introduce new friends to old.
Bring together people who have something in common, a hobby, an acquaintance, a sport, etc. When people share ideas, interests and feelings friendship follows naturally.
If you spice your party with some of the ideas presented here, like a favorite dessert, it will leave everyone looking for seconds!
Related Images: