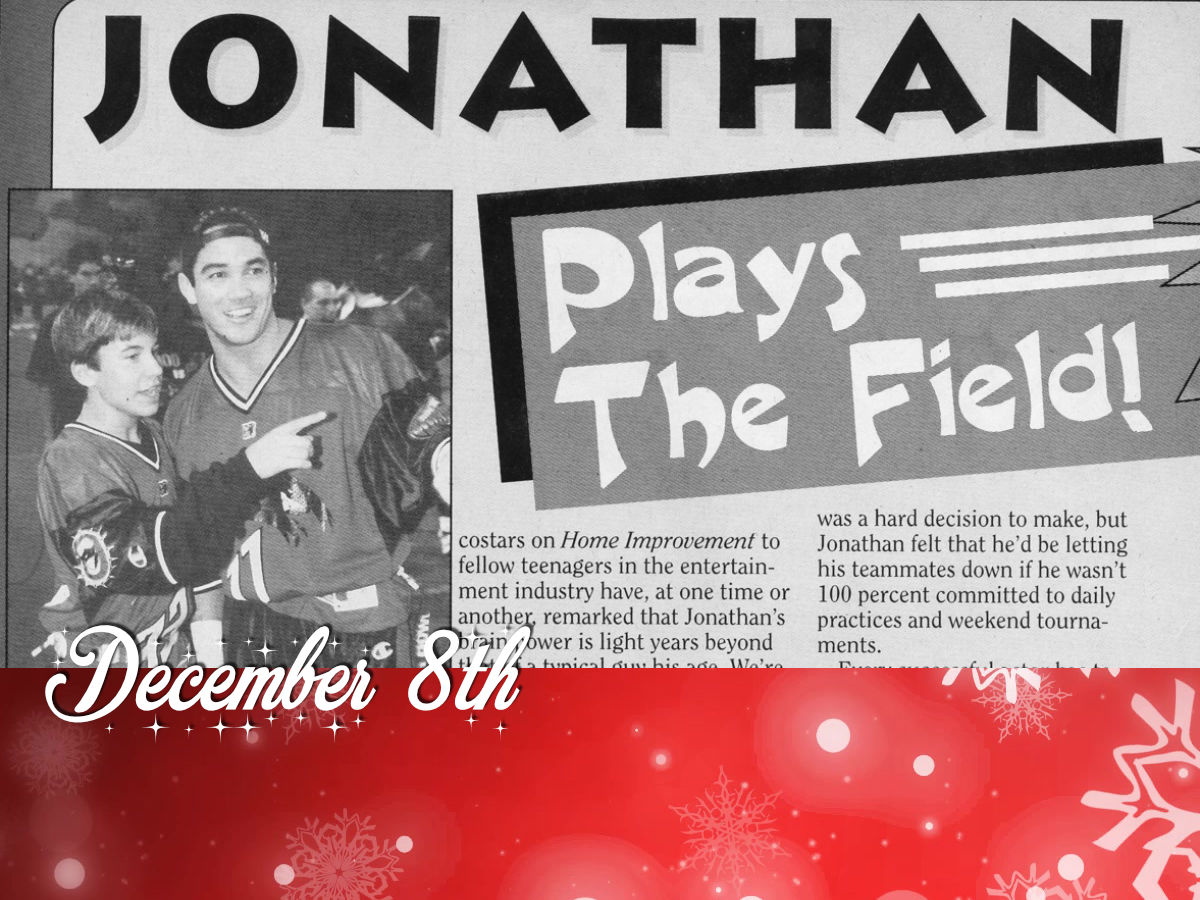 And now a little about sports. Article from 1997 issue of Tiger Beat – Jonathan plays the field at the Rock N' Jock Super Bowl. The event was held in New Orleans on January 27th.
Jonathan Plays The Field!
He's more famous for his brains than his brawn, but Jonathan Taylor Thomas is no klutz on the playing field!
If you look through the stories and articles on Jonathan Taylor Thomas which have appeared in Tiger Beat over the past three years, the adjective we've probably used most to describe this adorable 15-year-old is "smart." And it's not just Tiger Beat that glows with praise over the neat things going on inside JTT's adorable head! Everyone from his costars on Home Improvement to fellow teenagers in the entertainment industry have, at one time or another, remarked that Jonathan's brain power is light years beyond that of a typical guy his age. We're definitely not talking Beavis or Butt-head here! But if you've gotten the impression that Jonathan is some boring brainiac—think again! Jonathan is a really interesting guy with a great sense of humor and, although we often forget to mention it, a really good athlete.
Around the Home Improvement set, JTT's TV brother Zachery Ty Bryan is known as a pretty awesome soccer player, but did you know that Jonathan's pretty good on the soccer field as well?
It's true! In fact, both Jonathan and Zachery played for very competitive kids' soccer leagues when they both started on Home Improvement. "I played soccer for eight years," Jonathan says, but "sports take up a lot of time." Eventually, Jonathan decided to cut back on time-consuming team sports like soccer in order to pursue some of the cool movie roles, projects and voice-over work he was being offered. It was a hard decision to make, but Jonathan felt that he'd be letting his teammates down if he wasn't 100 percent committed to daily practices and weekend tournaments.
Every successful actor has to make sacrifices for his career, but Jonathan vows that he won't ever make the mistake of thinking that his job is the only important thing in his life. "You can't base your life around one thing," Jonathan says.
HE'S A SPORT Fishing is his fave, but Jonathan also likes basketball, soccer, baseball, tennis and snow skiing.
"That's why I focus on school, I play sports, I learn the technical side (of show business)." In an effort to strike some balance in his life, Jonathan works time into his schedule to get together with his non-actor friends to take in a movie or shoot some hoops—just like a regular kid. "I play basketball, football, tennis, hockey, everything," he says.
Good And Good For You!
One of the ways Jonathan gets a chance to play his favorite sports is by participating in celebrity sporting events for charity. Not only is it fun, but it's for a good cause, too! Last year, 5'1" tall Jonathan played basketball against some really big pro players at MTV's annual Rock N' Jock B-ball Jam. He didn't do badly either. "It was fun and the guys were great," he says. "It's not easy playing against seven-footers when every single one of your shots is getting blocked, but they were nice to me."
The event was such a good experience that when Jonathan was invited to participate in this year's Rock N' Jock Super Bowl, he jumped at the chance. Paired up with Lois & Clark star Dean Cain on the 'Evil' team (the other team was 'Good'), Jonathan was able to do some pretty serious damage to the defense. Go Jonathan! Like most guys his age, Jonathan also enjoys watching sports. His favorite teams are the New York Mets (baseball), the Chicago Bears (football) and the Boston Celtics (basketball). During the season, you can find him camped out on the living room floor with a big bowl of popcorn during really important games. Go team!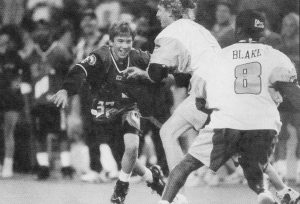 Every Jonathan fan also knows that he's one heck of a fisherman. Whenever he has a break in filming his hit series, he tries his best to arrange for a fishing vacation. "Fishing is really my favorite thing to do. It's a great way to relax and be out in nature," Jonathan says. When he's not actually fishing (which he's done all over—from Alaska to the Louisiana side of the Gulf of Mexico), Jonathan loves to read about fishing in sports magazines. He's as close to an expert as you'll find. If you want to know the difference between a bass and a sea bass, just ask Jonathan!
This native of Pennsylvania also loves to snow ski. He's been doing it for most of his life. In Southern California where the winter weather barely dips to freezing, Jonathan and his family try to arrange free weekends to drive up into the mountains to find some good fluffy powder snow and an uncrowded ski lift line. This year to spice things up a bit, Jonathan left his skis at home and tried snowboarding for the first time. "It's really a lot harder than it looks," he says. "I spent most of the first day coming down the slopes on my bottom side, but by the end of the day I didn't do so badly." Although Jonathan confesses that he doesn't think that snowboarding will completely replace conventional skiing as his favorite wintertime sport, he's very eager to keep on perfecting his skills at both.
So is Jonathan Taylor Thomas a smart guy? You know it! But don't just love him for his mind, he's also an extremely fun guy who likes to try new things, play new games and really let loose and have fun!
Source: Tiger Beat
Date:1997
Author: unknown

Related Images: