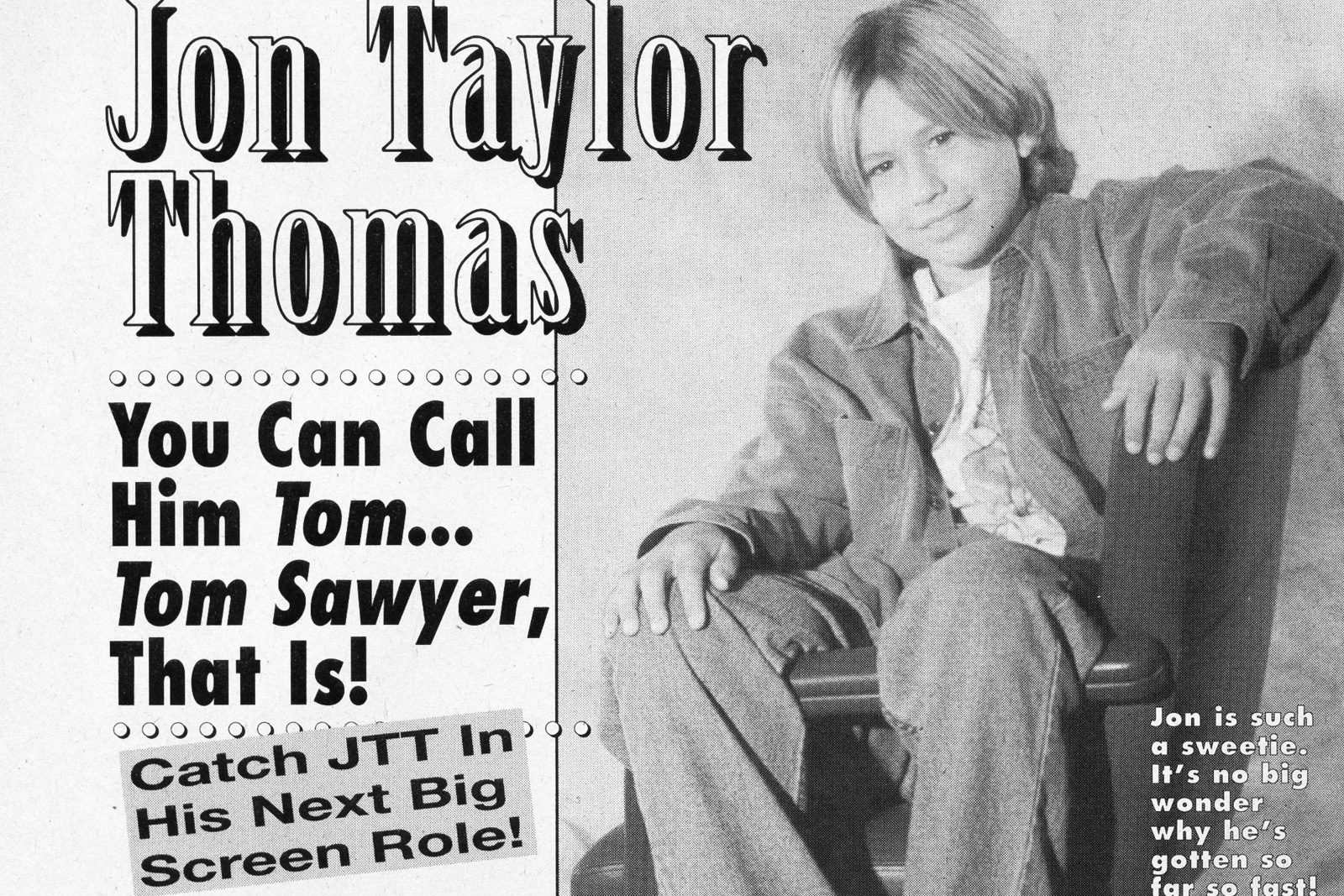 Catch JTT in his next big screen role!
Ain't no stopping' Jon Taylor Thomas now, he's on the move! And his next project is to head down south to star as Tom Sawyer in a film based on Mark Twain's classic novel. Tom's parents has passed away, he lives with his aunt, who's doing the best she can with him. But Tom's a handful-and-a-half! He gets into all sorts of mischief, plays hooky from school, plays pranks on people and even falls in love! The tale is all about Tom Sawyer's life – and growing up. So, what makes Jon so right for the part? Well, SuperTeen checked into what Tom and Jon are all about and did a little comparing' and contrasting'! See what you think!
1. Tom's in his early teens.
Jon is 13 years old. That's early teens, alright!
2. Tom's the most important character in Tom Sawyer
Any JTT fan will tell ya that Jon is definitely one of the most important characters on Home Improvement. Oddly enough, during HI's first season, the kids in the show weren't really that important – Jon's popularity changed all that! Now there isn't an episode without the boys!
3. Tom can be childish sometimes and very mature at other times.
Jon's all kid at heart, doing typical things boys his age like to do. But he can also be quite the grown-up. Jon takes his career very seriously and, when it comes to performing, he knows when it's time to get down to business. Granted, he likes 101 Dalmations and The Great Mouse Detective and, naturally, there's always time to shoot hoops or play football between takes, but when the director says, "Action!" – action it is! Jon's roles can really range too, because "being small, I can play younger… but I can also play older because of the maturity level."
4. Tom has a happy, loving home.
Jon is super close to his mom, Claudine, who travels everywhere with him. His dad and bro are totally supportive and very proud of him. The whole family reunites and has a wonderful time together as often as it can!
5. Tom has a "sunny nature."
Can you sat, "Mr. Personality"? Our boy Jon always has a smile on his face and a good thought to share. He's well-liked by his Home Improvement co-stars and everyone else who meets him!
6. Tom's a clever, imaginative boy. He entertains his pals to make them happy.
Jon loves to crack jokes, goof around, or throw on a serious face if he's acting! It takes lots of creativity to bring each character Jon plays to life – but he does it! (And well, too!)
Not only does he make his friends in all of America laugh each week on HI, but now, he may even bring a tear to your eye with his big screen roles (especially this one!)
7. Tom's greatest wish is to be a celebrity and attract attention.
Be careful what you wish for, 'cause it just might come true!
Jon's been acting for a long time and even though he didn't get into show business to become "a star," he is a teen star and can't go anywhere unnoticed! Although attention is nice, that's not what our boy loves about showbiz.
8. Tom likes adventures and "escaping to nature."
Jon loves to fish! Whenever he has a chance to get away or relax, he takes his fishing pole to the nearest lake. Jon says that if he were trapped on a desert island, the three things he'd want are, "my family, my animals and fishing gear." Jon also digs "hiking up in the mountains. That's really cool!"
9. Tom has fears, but eventually overcomes them.
Despite what you might think, like anyone else, Jon has fears too. For instance, "When I started my new school, I was panicked," Jon says.
Source: SuperTeen Magazine, Volume 18, No. 3
Date: August 1995
Author: unknown

Related Images: