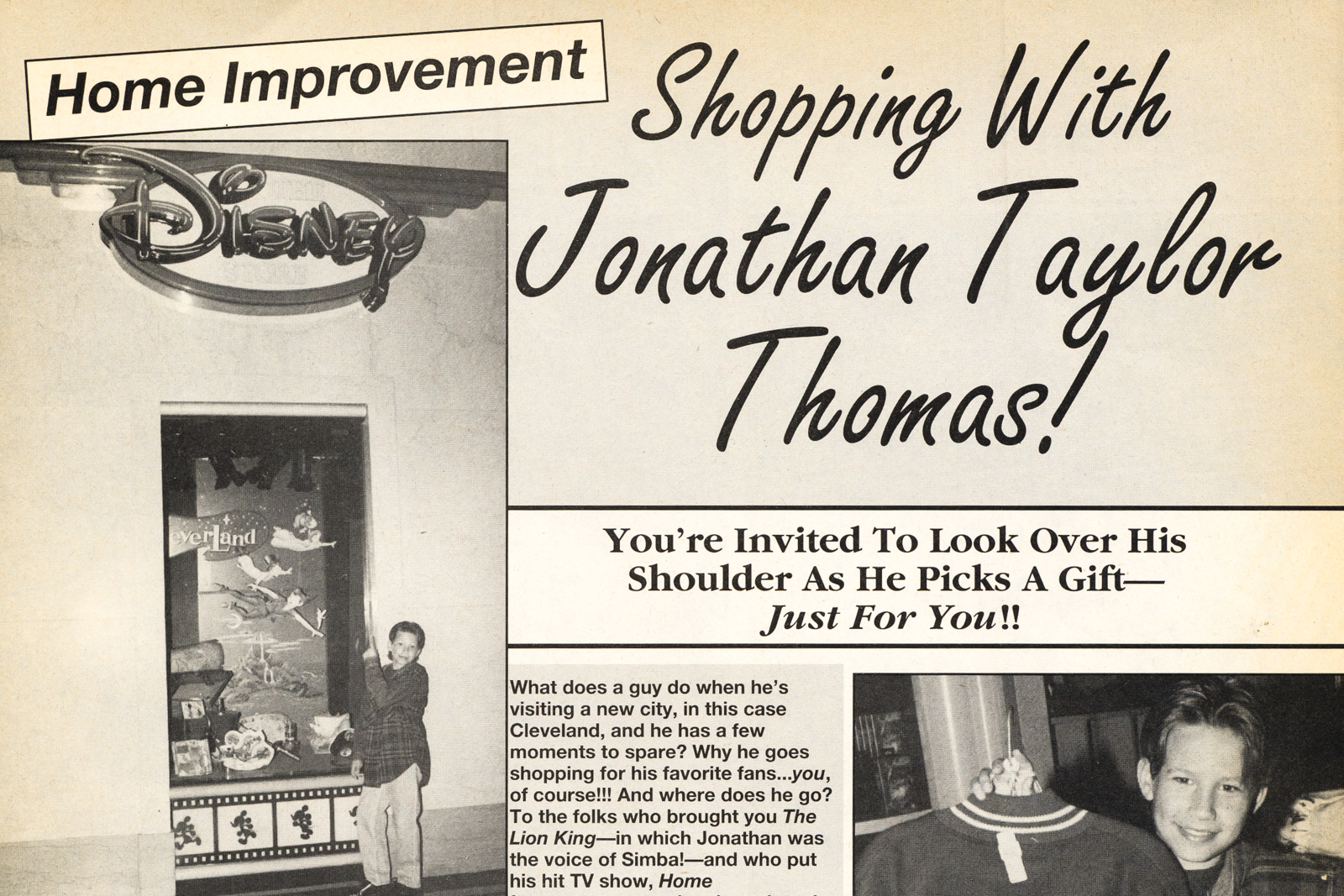 You're invited to look over his shoulder as he picks a gift – Just for you!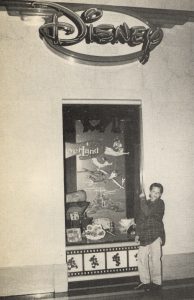 What does a guy do when he's visiting a new city, in this case Cleveland, and he has a few spare moments to spare? Why he goes shopping for his favourite fans… you, of cause!!! And where does he go? To the folks who brought you The Lion King – in which Jonathan was the voice of Simba! – and who put his hit TV show, Home Improvement, on the air each and every week… Disney natch!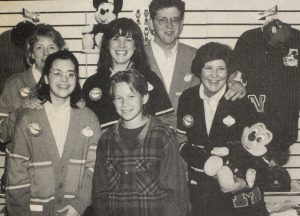 Jonathan Taylor Thomas is no ordinary customer. The manager and workers at the Disney souvenir store gathered 'round to take pix, and then gave our man the run of the place. In the back, that's Mary Ellen, Lynn, and Nicholas. In the front is Becky, Jonathan, Christine, and Mickey Mouse!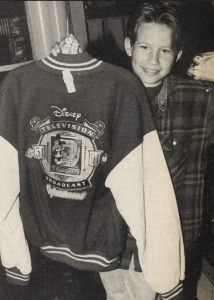 Now, a jacket's always cool, thought Jonathan, but you don't necessarily need one every day. Need to keep looking!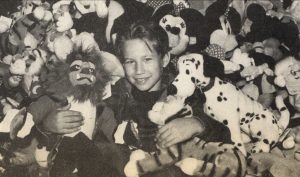 Jonathan was allowed to dive right in when he came across this huge display pile of Disney plush toys! Mickey and Tigger, Pongo and the Dalmations, and even the Beast were tickled to see him … but Jonathan wanted to see more before he made a decision about what to get for you!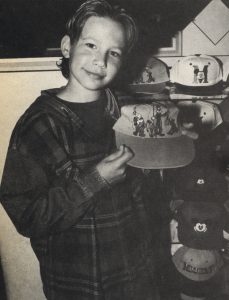 Ooh, look! A Mickey, Goofy and Pluto fishing cap! Perfect, right? If there's anything that Jonathan absolutely loves, it's going fishing!!! But wait … you might not necessarily need it every day.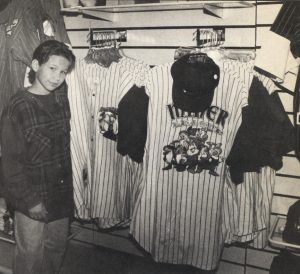 Baseball shirts! Keep you warm all over and good stuff like that, but … it's not always baseball season now is it?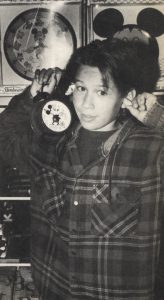 Sometimes getting up feels like the last thing you want to be doing, but Jonathan always perks up when it's a Mickey clock that helps him out of bed! That's it, he said. Something we can share each and every day … waking up to a new adventure!
You can win!
So ifya want to try and win Jonathan's Mickey Mouse alarm for your nightstand (he paid for his stuff with a Disney employee's discount card – isn't that cute?!!), simply fill out the coupon below and send it back to SuperTeen! One lucky winner's name will be selected at random from all entries received, and announced in a future issue!! Best of luck!!!
Source: SuperTeen, Volume 17, No. 6, February 1995
Date: February 1995
Author: Unknown

Related Images: