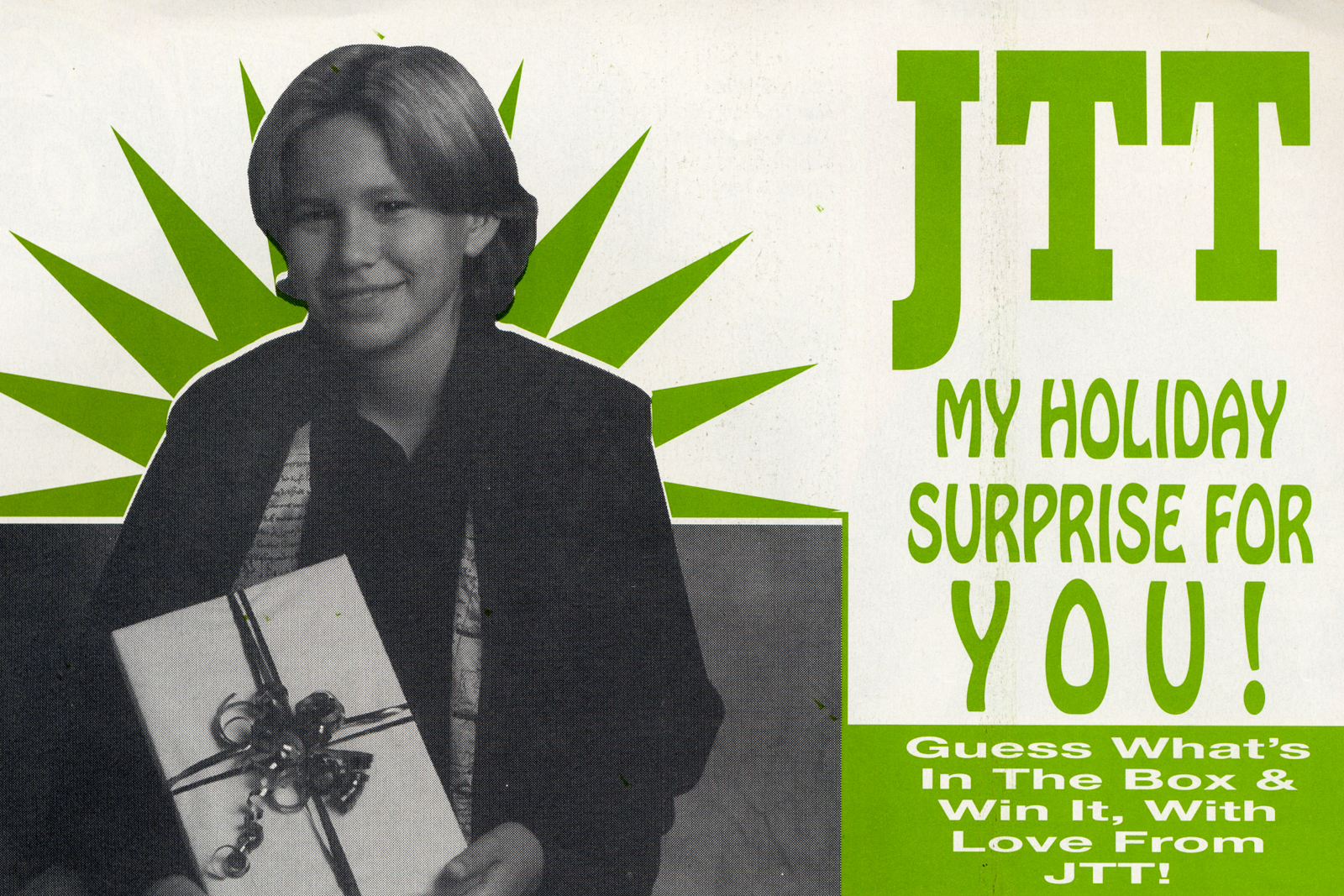 Guess what's in the box & win it, with love from JTT!
There is nothing like the end-ofthe-year holiday season to bring out the good cheer in your favourite stars. And what a year it's been for a special favourite, Jonathan Taylor Thomas! Check it out: 1994 is the year he became a teenager (on September 8); helped Home Improvement capture 'n keep the number one positions in all of television; saw his movie, The Lion King, become the popular flick of all time. That's for starters – JTT also traveled across the USA and Canada (to meet you!) and across the ocean (to London, England); filmed his first feature movie (Man of the House); visited sick kids in hospitals and did countless benefits, raising money for charity.
JTT is grateful for the opportunity to do all this cool stuff, and more than anything, grateful that you care – about his career and about him! That's why he decided that this holiday season the thing he most wants to do is say a great big 'Thank You!' to you. He'd love to do that in person, but since that's not possible, he's coin' the next best thing.
In the holiday season spirit, JTT went out and got a gift – to be given as a token of his affection, to one super-lucky fan. He carefully chose the present, then wrapped up the gift box with colourful ribbons, as you can see. But what's in the box?? That's for him to know – and you to find out!
Guess what JTT's present is – & win!
What on earth could JTT have chosen to give to you?
Could be almost anything that cost under $50 and fits inside this 16″x12″ box! Those are the only hints you're getting' – now, let your imagination take over from here! Fill in the coupon on this page with your guess and mail it off to the address given by January 30, 1995. 16's editors will open all the entries – the first person to correctly guess what's in the box (or, if no one does, the person who comes closest) will win it, with JTT's compliments and love!
The winner will be announced via a future issue of 16.
Source: 16 Magazine, Volume 36 No. 6
Date: February 1995
Author: unknown

Related Images: