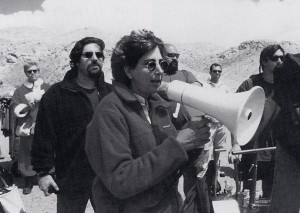 Principal photography began in Canmore, Alberta in the Canadian Rockies. The company shot for one week before moving to Vancouver, B.C.
Production designer Cynthia Charette wanted the feeling of movement in this cross-country film, but recognised that continual location shifts were largely required within one city. "Imagine trying to travel across America in one city," says Charette. "That was a challenge."
Clearly, an understatement. Producers chose the versatile city of Vacouver, Bitish Columbia, to recreate the look of several American towns in California, New York, Nebraska and Wisconsin. "Because the nature of the film is a travelogue from the west coast to the east, we really hit every Lower Mainland community that exists," says co-producer Justis Greene.
One memorable location was Fort Langley, B.C., used as the site of 150 fully-costumes Santas running a file kilometre marathon. "Shooting in Fort Langley was a blessing," says Charette. "It's one of a few real towns outside of Vancouver that has a beautiful, historic look that can pass a small town in America."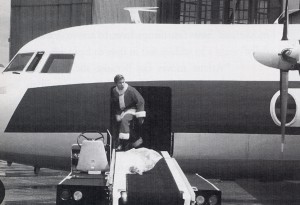 Co-producer Greene recalls, "The main street of Fort Langley is provincial highway as opposed to just a normal street. It's surrounded by residential neighbourhoods. To divert heavy traffic through the neighbourhoods wasn't acceptable."
Producers approached Interfor, a local pulp and paper mill, and asked the company for permission to divert traffic from the provincial highway through Interfor property on their private road. Rerouting local traffic allowed the municipality to close the provincial highway in order to film the Santa marathon safely.
Among the other filming sites in the Vancouver area were Shaughnessy, an exclusive residential neighbourhood transformed into a picture-postcard Christmas scene complete with an evening holiday parade, and Edgemont village in North Vancouver, which doubled for the staging area of the parade. In addition, the filmmakers created a "Turf and Turf" restaurant out of the unique Cloverdale Keg steakhouse, which came complete with a large viewing window into the equestrian centre. In the hands of Cynthia Charette and director Arlene Sanford, the restaurant became a tongue-in-cheek play of "Surf and Turf" when, through the window in the film, we see a herd of cattle.
"It's supposed to be Nebraska, like Route 66," explains Charette. "First, we built a thirty-two feet high bleached cow skull that you had to walk through to enter the restaurant," she laughs. "Second, the restaurant was changed so that patrons were dining with a table-side view of the cows. Just like you pick out the lobster of your choose, only instead you're picking out your cow. And the cow's right up at the window mooing at you."
Later, Charette also transformed Richmond's Fantasy Gardens into the exterior of a Bavarian hotel, the Strudelstrasse Inn. An additional challenge to the filmmakers was finding a location city that could be easily modified into a winter wonderland in May – a process that started nearly three months before filming began.
"We started scouting for this film last January," explains Charette. "At the time, I was seeing places with snow and trees that looked perfect for shooting right then. But by the time we went back to shoot, it was April and it was like a green, beautiful forest."
"I have to be honest," indicates co-producer Justis Green. "We looked everywhere. We were prepared to go to Colorado or Minnesota or where the heck we had to go to get snow. But we didn't any show in North America that was consistent."
Then the producers met with Bill Orr, a special effects genius who had the solution to this year's unseasonably high temperatures – organic, biodegradable, paper "snow," imported from Europe. "I was doing a show called 'Little Women', about four or five years ago," says Orr. "The production designer was from Europe, where they've been using paper snow for years. We did the research and asked to get hold of the product, and we had it shipped in."
"It looks just like the real thing," enthuses Greene.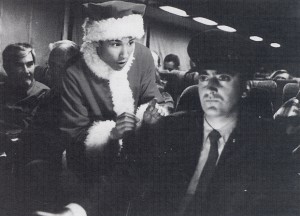 "You can play in it. You can walk in it. You can drive in it. You can even make snowballs out of it."
The dependable and cost-efficient paper snow was the ideal solution to other, more costly, less convenient alternatives. "I have a history of snow pictures," says Greene, "and we've used ice crushers and semi-trucks full of refrigerated ice blocks. We've used foam and potato flakes. And going way back, we been used salt – tons and tons of rock salt. This is by far the most satisfactory method."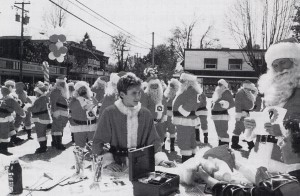 "If you're James Cameron, you can shoot on a really cold sound stage or add it in on the computer, like he did in 'Titanic,'" says Arlene Sanford. "We didn't have that luxury. We just hope the audience buys the illusion without it."
Capturing the magic of Christmas during Vancouver's spring and summer months also presented other challenges. "Harder that making snow was covering up spring," says Sanford. "We were in places where we couldn't take trees that had leaves and just rip them off. That's why, in cases the trees are little fluffier than your average winder ones."
Warm temperatures affected more than just the look of the production. The Santa Five K, a scene involving 150 fully-dressed Santa Clauses running in a file kilometre race, was filmed in ninety degree hear.
"There were a few Santas who were close to passing out, I'm sorry to say," says Charette. "It was so hot. Image these poor men having to run down the street in their Santa suits. Over and over again."
Director Arlene Sanford explains how long days and warm temperatures were tolerated by her ensuring that filming moved along at a quick pace. "I have a good sense of the clock. I know how much time we have to do this movie and how things have to move. I don't like to dally."
"Arlene moves fast because she has a very clear idea of the shots that she needs," says Jonathan Taylor Thomas. "She had a really clear picture of every scene before we start working on it. She's very good at what she does – a fantastic leader."
With her boundless energy and enthusiasm, Sanford was the ideal choice for director. "When Arlene directs, people are hopping," states producer Tracey Trench. "She's had so much experience directing comedy, and she's a very funny person as well, but she's also visual. She's got a great story sense. She's really one of those directors you wouldn't hire just to shoot a movie. You hire her to come in and shape the story, to make the characters come together and come alive."
Trench also describes working with the film's three teenage stars, an arrangement that often required increased preparation and organisation, as a positive experience. "When you work with teenagers, you have certain limitations. Legally, you can only shoot a certain number of hours per day. But they were all really good about being ready for the hours we had them, so it wasn't a problem for us. They always came prepared."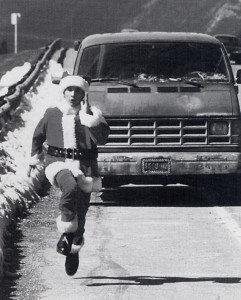 Arlene Sanford praises the young actors for their professionalism. "It was just like working with adults. The only difference was that their hours were limited, and sometimes they had to stop in the middle of a scene to take a science test."
The company moved to California to shoot in Red Rock Canyon State Park and in the desert one half hour east of Lancaster. Once again the company "enjoyed" ninety degree heat. But even the desert outside Lancaster, the site where Jonathan Taylor Thomas' character is dumped, glued into his Santa suit, was more fertile that expected, due the after-effects of El Nino's record rainfall.
"It's always beautiful there," says co-producer Justis Greene. "But it was very unusual to have it that lush – to have that much colour and that much foliage – at that time of year."
Also joining the production at that point was Zulu the Buzzard, who shares a pivotal scene with Jonathan in the desert. TO remind the cast and crew that they had indeed changed locations from the northern climes of British Columbia to the California desert, a snake handler also joined up.
Additional locations in California included a section of the old Golden State Highway, and the beautiful campus of Mount St. Mary's College in Brentwood.
Sanford marvels at how overcoming obstacles during the filming of "I'll Be Home for Christmas" actually seemed to add to the magic of the film. "For the majority of filming, we stayed in Vancouver. But we made it look as though we traveled across the whole United States – including making it snow in the middle of spring. It's the biggest job I've ever had, but it was incredibly delightful."
The only down-side to recreating Christmas with authenticity is the possibility of holiday overkill. When asked if spending three months surrounded by the Christmas season dampened the cast of crew's enthusiasm for the holiday, producer Tracey Trench admits, "I did talk to a few people on the crew, and I think theyøre not going to decorate their homes this year. I think they may have had enough of Christmas."
She smile. "But for me, it's just the beginning."
Read more:
Source: Walt Disney promotional material #24971
Date: October 15th, 1998
lam/wr/rtj