Jonathan Taylor Thomas stars as Jake Wilkinson, a self-absorbed college student, who just days before Christmas awakens to find himself stranded in the middle of the California desert – wearing a Santa suit and a white beard glued to his face.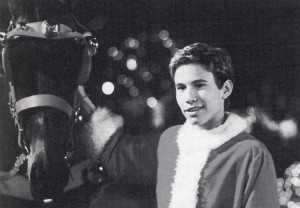 The butt of a pay-back by the football team who thinks he double-crossed them by not providing the correct answers to a finals exam, Jake has to find a way to get to New York by 6:00 p.m. on Christmas Eve – and catch up with his girlfriend Allie (Jessica Biel) who is on the road with the school stud Eddie (Adam LaVorgna) – or risk forfeiting the vintage Porsche his father (Gary Cole) promised if his son comes home for the holidays.
As Jake desperately hitchhikes his way east, everyone he meets unwittingly sets into motion a comedy of errors as they look to Santa for help and advice, in Walt Disney Pictures' comedy, "I'll Be Home For Christmas."
Walt Disney Pictures presents "I'll Be Home For Christmas," directed by Arlene Sanford, from a screenplay by Harris Goldberg & Tom Nursall. The story is by Michael Allin. Produced by David Hoberman and Tracey Trench, the executive producer is Robin French. Co-producer is Justis Green. Buena Vista Pictures Distribution distributes.
Anyone who's ever tried to travel across the country during the Christmas holidays can sympathise with the plight of 18-year-old Jake Wilkinson (Jonathan Taylor Thomas). Who of us cannot recall our "holiday joy" at the memory of icy highways and snowbound airports? Or being gathered in some crowded terminal with hundred of fellow travellers, all weary, anxious and short-tempered, listening to a harried attendant explain for the umpteenth time that our flight's been overbooked, and someone will have to be bumped? And all the while, Christmas Eve is closing fast.
Jake's situation is similar – but with a few new twists. Mere days before Christmas, he finds himself stranded in the middle of the California desert with no wallet, I.D. or cash.
The first twist is, it's Jake's own fault. How he ended up in the desert is the result of a plan he had for some of a few of his fellow students that went awry. The second twist is, as part of his victims' retribution, he's been dressed in a Santa Claus suit with a white beard glued to his face. The third twist is that the mastermind behind Jake's desperate situation, his arch-rival Eddie, has taken advantage of our hero's "absence" to put the moves on his girlfriend Allie, offering her the ride home for the holidays that Jake failed to provide.
As he hitchhikes, freeload, cons, flies, crawls, races and bullies his way east, Jake sets in motion a comedy of errors involving a series of eccentric and amusing characters who both help and hinder him on his way. Will he make his deadline to New York City – and also, at the same time, manage to save Allie from the clutches of the nefarious Eddie?
Does Rudolph have a red nose?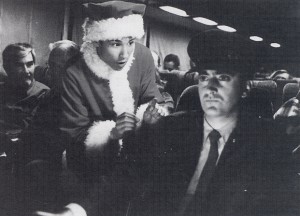 When it comes to wheeling and dealing, charming Jake Wilkinson is the king, is a con artist extraordinaire. His scams and scheming ways have him running the show.
Unfortunately, he's also run afoul of the former "king," and older student named Eddie, who is displeased, to say the least, about having Jake take over what used to be his turf. It's your basic collision course – and only a matter of time before the two have it out.
That time is now – the upcoming Christmas holiday.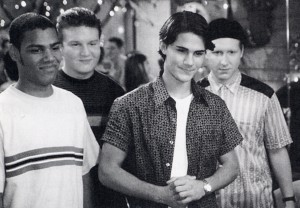 It all starts when Jake's father David, a successful New York lawyer, sends Jake a first class plane ticket to ensure the boy's arrival home in time for Christmas Eve. But going home hadn't been the same for Jake these past few years, ever since the death of his mother. Things haven't been helped, either, by his father's remarriage so soon after Jake's mother died.
Looking to avoid the awkwardness and unhappiness he associates with a holiday visit to his father and stepmother, Jake swaps his ticket home for two tickets to Cabo San Lucas, where he plans to spend Christmas with his girlfriend Allie. Unfortunately, he doesn't clear the plan with Allie first, and she rejects his invitation to spend "Christmas in paradise," preferring instead to spend the time with her own family.
David also confronts Jake about the ticket swap, and the boy can only offer lame excuses for his behaviour. Desperate to have his family together for Christmas, David bribes his son with the only thing he can think of to bring him home – the vintage Porsche the two of them had spent so much time rebuilding together, before they'd become estranged. There's online catch, however: Jake must make it home no later that 6:00 p.m. on Christmas Eve, in time for dinner. Jake agrees, goes off to tell Allie of his "change of heart," and the two of them make plans to travel east together.
Then, along comes Eddie – who has just sabotaged one of Jake's scams, this one to sell the answers to a final exam to members of the school's football team. Led by Eddie, the angry jocks set a trap for Jake. The trap is sprung, and the next thing Jake knows, he regains consciousness in the middle of the desert, alone, wearing a Santa suit and a glued-on beard and hat. Jake is stranded, with no money and nary a reindeer in sight – much less any other mode of transportation. And when Jake fails to pick up Allie, it's Eddie to the rescue.
Dressed in his Santa suit, broke and desolate, his girlfriend traveling cross-country with his arch enemy, Jake is nonetheless determined to make it home in time to claim the incredible gift his father has offered.
But when Jake inadvertently learns that Eddie and Allie may be falling in love, his priorities change. Getting the car takes a back seat to tracking down his girlfriend and saving their relationship, before it's too late.
At first, Jake is little more than a schemer, albeit a charismatic one. Much of that, though, is due to the difficulty he's had adjusting to his mother's death and his father's remarriage.
"Jake starts out a s a wise-cracking, manipulative guy" explains Jonathan Taylor Thomas. "But eventually he changes to a more sensitive enlightened person."
Director Arlene Sanford agrees with the star's assessment. "Jake is very charming, and he's not at all malicious, but he also starts off vert selfish and self-absorbed. He doesn't like to talk about the way he really feels about things. Over the course of the movie, though, he comes to terms with his mother's death. He also learns to talk more honestly with his girlfriend, his stepmother and his father. It's a two, three or four-hanky movie, depending on what sort of family you come from yourself."
"I'm basically a romantic sap at hear," the director continues. "I always look for a script that makes me tear up or gets me emotional in a surprising way."
Producer David Hoberman, an astute film executive who trusts his instincts when it comes to making popular motion pictures, had been interested in the story of "I'll Be Home For Christmas" for 17 years. "I've literally known about this story for almost two decades," Hoberman says. "I always thought the scenario was a wonderful journey for a character to take; someone who starts off a little rough around the edges and who is a bit selfish, but who ultimately learns and understands what Christmas is all about."
"'I'll Be Home For Christmas' is a film I've been wanting to do for a long time," Hoberman continues. "Finally, I got to do it under the Disney banner, which was the best place for it to be made."
Although the film does have its share of touching emotional moments, it's still a comedy. "It's similar to 'Planes, Trains and Automobiles' and 'Midnight Run",'" explains Thomas. "Because the audience is being dragged along across the country, the same as Jake, it makes for a fast, funny film. You never know what's going to happen next."
Director Sanford adds, "The comedy derives from the character resting to all the weird, off-beat people he meets on the road. From his first encounter with a guy who runs a gas station, to a bunch of old ladies who sing Tom Jones songs to him in a car. From a petty thief to a lovelorn cop. It's definitely an odd assortment of people he meets on the way."
According to producer Tracey Trench, "The reason I wanted to do this film was, first of all, for the title, 'I'll Be Home For Christmas', is the only song that makes me cry whenever I hear it, especially at Christmas time. But I also wanted to do it because it's a true family film. It's a story that everyone can relate to, especially during those moments when we get too far away from what Christmas really means – a time for family and friends, love and joy."
For the film to be a success, just the right young actor had to be cast in the lead, someone to capture both Jake's charismatic and devilish sides. "Jonathan is perfect for this role," says Trench. "He's funny and he's smart, but he's also a little mischievous. And he really comes of age in this film. Everybody's seen him on 'Home Improvement,' as a young boy, a member of a family. Now we get to see him as a love interest."
HIs "love interest" is Allie, Jake's independent-minded, strong-willed girlfriend, played by Jessica Biel who is most prominently known from television's "7th Heaven." "Allie's a 'no-nonsense' kind of girl." asserts the actress. "She doesn't take anything from anybody. I like that about her."
"Allie is the voice of reason," explains Tracey Trench. "The solid girl, the best girlfriend a guy could imagine having."
In the beginning, Jake and Allie could not like each other more. "She's charmed by Jake's character," says director Sanford. "But early on in the film, she gets fed up and separates from him."
Biel states bluntly, "Jake starts acting like an idiot. He starts making bad choices, and so he and Allie clash."
All of which is further complicated by Jake's rival, Eddie. In an effort to regain the status on campus that's been usurped by Jake, Eddie sabotages one of Jake's scams, then helps the football team get a little payback.
Adam LaVorgna says of his character, "Eddie's the bad guy in the script. But even then, he's kind of a likeable guy. He's trying to be cool when he's not. He wants to get the girl, but he goes about it in a very goofy way."
Biel adds, "At first, Allie doesn't want anything to do with Eddie. He's kind of a slime ball. But as the movie goes on, and they spend time together, they actually starts becoming friends. She finds out that he's not so 'Mr. Cool' after all, that it's a facade. From there they start to develop a friendship."
First and foremost, however, Allie is Jake's girl, even though they spend much of their screen time apart from each other. "Their relationship is sort of odd that way," says Thomas. "They really aren't together for a large portion of the movie. But the times they are together, you can see they have a very good relationship. They really do love each other."
"At the end of the movie," says Sanford, "Jonathan and Jessica performed Jake's and Allie's reconciliation beautifully."
"That's what the movie's about," concludes Tracey Trench. "Finding out what it means at Christmastime to get back to the people you love. And at the same time have a lot of fun doing it.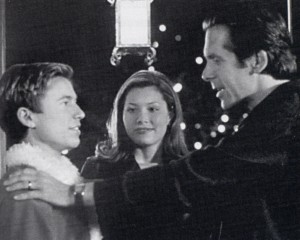 "I love Christmas," says Jonathan Taylor Thomas. "If we could celebrate it three hundred and sixty-five days a year, I would."
Read more:
About the Production
Source: Walt Disney promotional material #24971
Date: October 15th, 1998
lam/wr/rtj