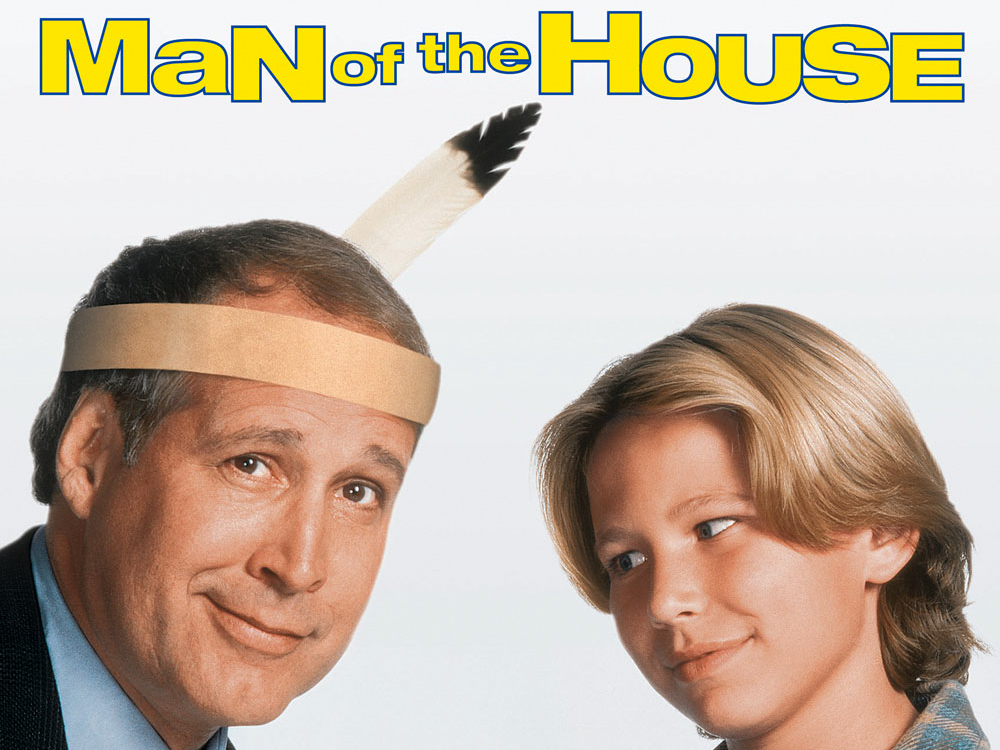 Chevy Chase, Farrah Fawcett
and
Jonathan Taylor Thomas
star in
'MAN OF THE HOUSE'
WALT DISNEY PICTURES'
HILARIOUS SMASH HIT COMEDY
MOVES TO HOME VIDEO THIS AUGUST
Laughs" …. "Fun" The San Francisco Chronicle
Burbank, Calif., June 25, 1995 — This summer, sharpen your tomahawk and practice your canoeing with teen heart-throb Jonathan Taylor Thomas (TV's "Home Improvement," "The Lion King") and Chevy Chase ("Foul Play," "National Lampoon's Vacation," "Fletch") in Walt Disney Picture's hilarious live-action box office hit MAN OF THE HOUSE. Debuting on home video August 8, this outrageously funny family comedy also stars Farrah Fawcett (TV's "Charlie's Angels," "The Margaret Bourke-White Story," "The Burning Bed") and "Cheers'" George Wendt ("Forever Young," "My Bodyguard").
A $38 million smash box office hit, MAN OF THE HOUSE tells the story of twelve year-old Ben (Thomas) and his mother Sandy (Fawcett). Abandoned by his father when he was six, Ben finds it difficult — if not downright impossible — to accept Jack Sturges (Chase), the new man in his mother's life. When faced with the dilemma of how to rid himself of this potential step-father, Ben devises a scheme that is designed to drive Jack away. In an attempt for the two to "bond", Ben requests that Jack join him in the Indian Guides organization. Chaos and laughs prevail when Ben learns to like and accept both the Indian Guides and Jack.
The Indian Guides is a program of the YMCA throughout North America, that fosters mutual respect and caring between parent and child. As the program plays such a significant role in the film, it was necessary to conduct pre-production lessons in the ways of the Indian Guides. In preparation for the film, the actors went through intensive training to learn archery, tomahawk throwing, canoeing and rain dancing. "One of the challenges we faced when we stared this movie was how we were going to get the large cast, four fathers and four sons, proficient in dancing, canoeing, archery and tomahawk throwing in a limited amount of time," says producer Marty Katz. "We continued the rehearsals virtually every Saturday and several times a week in the evening."
MAN OF THE HOUSE is available in VHS and CLV Laserdisc formats in Digitally- Mastered Hi-Fi Stereo Sound and is closed-captioned for the hearing impaired. Rated "PG-13" by the Motion Picture Association of America, MAN OF THE HOUSE has an approximate running time of 91 minutes.
Walt Disney Home Video is distributed by Buena Vista Home Video, Inc., the recognized industry leader for seven consecutive years. A subsidiary of The Walt Disney Company, Buena Vista Home Video, Inc. is the marketing, sales and distribution company for all Walt Disney, Touchstone, Hollywood Pictures, Jim Henson, DIC Toon-Time, Miramax and Buena Vista videocassettes.
Author: Dorrit Ragosine
Source: Walt Disney Company Press Release
Date: June 25th, 1995
Copyright: The Walt Disney Company

Related Images: