Jonathan Taylor Thomas' new movie The Adventures Of Pinocchio is here! Come along and share the excitement of the real story of Pinocchio with Jonathan—in his own words!!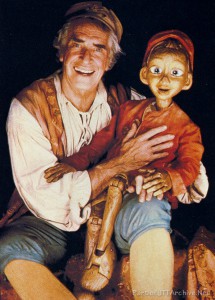 We all know the story of Pinocchio, the little wooden puppet created by the lonely woodcutter Geppetto. More than anything else, Pinocchio wants to be a real boy, but first he has a lot to learn about the world! So he has some adventures—some are exciting while others, like being swallowed by a giant whale, are downright terrifying. Along the way, he learns never to tell a lie (because his nose grows every time he fibs) and he finds a very good friend in a cricket named Pepe.
Jonathan Taylor Thomas stars as both the voice of the puppet and the real live boy he becomes in New Line Cinema's The Adventures Of Pinocchio
Check out these scenes from the movie as well as what Jonathan has to say about them!
Source: unknown
Author: unknown
Date: June 1996