Over the years many teens have been called "The Hardest Working Kid In Show Business" but nobody compares to 14-year-old Jonathan Taylor Thomas!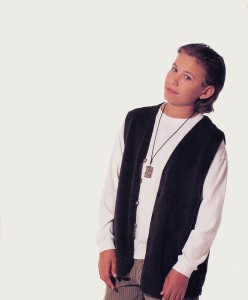 Sometimes you have to wonder if Jonathan Taylor Thomas ever sleeps! This 14-year-old star is about as spunky as the Energizer Bunny; he keeps going and going! This spring, filming had barely ended on Home Improvement, and already this blue-eyed boy was telling the world about his summer of '96 movie, The Adventures Of Pinocchio and prepping to begin filming Wild America with Devon Sawa in Georgia.
The Adventures Of Pinocchio, Jonathan's fourth theatrical film and his second venture in voiceover acting, will open at a theater near you on July 26. It's the story of a puppet named 'Pinocchio' who will do anything to become a real life kid. "It's a classic story and a neat tale," says Jonathan. "This version of Pinocchio follows more along the lines of the original Pinocchio, Carlo Collodi's version, not at all the Disney animated version. Plus, it's live action."
Jonathan's human costars in the film include Oscar winner Martin Landau as Pinocchio's creator, the kind woodcutter 'Gepetto,' as well as Cheers star Bebe Neuwirth and Saturday Night Live veteran Rob Schneider as some really funny villains. But the real star of the film is a life-sized animatronic Pinocchio created by the special effects whizzes at Jim Henson's Creature Shop. Not only does the puppet talk and walk, but it looks an awful lot like Jonathan!
"I had to sit in plaster for 45 minutes here in Burbank before I left to go over to Europe (where Pinocchio was filmed)," explains Jonathan. "They took the plaster mold of me and made this puppet—and it is amazing. When you see this film, you feel for this puppet, you become attached to it, you want to reach out to this thing. After a while you don't even realize that it's mechanical, you think that it is really alive. People are going to go see this movie and wonder how we did it."
As he did in the hit Disney film The Lion King, Jonathan recorded Pinocchio's voice throughout the film. However, unlike The Lion King, you will also get a chance to see the real Jonathan! "I do the voice throughout the whole thing," Jonathan says. "Physically, I'm in the movie for the last couple of minutes when he turns into a real boy."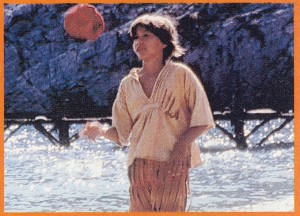 While The Adventures Of Pinocchio is wowing audiences at multi-plexes all over the country this summer, Jonathan
will be working hard (as usual) playing 'Marshall Stouffer' in the upcoming feature film Wild America. Joining Jonathan on location in Savannah, Georgia and Alberta, Canada are Devon Sawa, who will play middle Stouffer brother 'Mark' and White Fang II star, 22-year-old Scott Bairstow, as eldest brother 'Marty.'
Set in the summer of 1967, Wild America is a movie based on the true story of three brothers who grew up to become famous wildlife documentary film makers. Told through the eyes of Jonathan's character, the film details the summer when the three brothers go against the wishes of their domineering father and set out to make their first wildlife film. Wild America promises to be chock full of high flying adventure as well as tense family drama.
Jonathan, who has never appeared in a movie that's failed, admits that he's pretty picky about what films he agrees to do. "There are some really fabulous scripts for kids, but it's a matter of whether it's a movie I want to make and whether people who are watching my career will want to go see it," says Jonathan. "I have to feel comfortable that kids are coming to see this movie, and that's a real responsibility. I wouldn't want to do a movie that indulged in violence and stuff. I have to feel comfortable with it and so does my family."
Jonathan has chosen to make movies like The Adventures Of Pinocchio and Wild America because both stories contain messages about the importance of family that Jonathan holds near to his heart. "They're just good, clean movies that have a positive message that are entertaining. And that's really the goal."
Source: Unknown
Date: July 1996
Author: unknown