Brad Pushy?
I heard that BRAD RENFRO pushed JTT off a bridge on the set of Tom And Huck, and that JTT hurt his head and spent five hours in surgery. Is this true ? — Anonymous
What's that about?
Although JTT and Brad didn't exactly become best buds, they certainly weren't violently mean to each other. That rumor's a no-go.
Short Sighted?
On TV, Jonathan Taylor Thomas looks shorter than the rest of the actors on Home improvement. How tall is he really? — Cindy and Cintya Rivera, Newburgh, NY
Jonathan now stands at 5'1" tall — which right now makes him shorter than both ZACH TY BRYAN and TARAN SMITH.
He's totally cool with it — he knows his big brother Joel had a growth spurt, and he will too.
Fear Of Freckles?
Would JTT have a problem dating a girl with freckles? I mean, I know he says he cares about how a person is inside, but some people are weird about that. — Amanda Brock, Baker County, FL
JTT means what he says—it's what's inside a person's heart that makes her beautiful. So don't ever worry about your freckles — it's your great personality that'll make you number one in Jonathan's book.
Back For More?
Is it true that this is Home Improvements last season? — Michelle
Get ready to party because Home Improvements going to be around for at least another three years! When you've got one of the hottest shows on TV, you stick with it! And Jonathan has said he plans on staying with the show.
Dating Rachael?
Everyone's been saying that Jonathan Taylor Thomas is going out with RACHAEL LEIGH COOK. My mom said she saw it in the tabloids. Please say it isn't true. — Nicole
We've been saying it, but we'll say it again — it's totally untrue. The pair turned up at the Tom And Huck premiere together simply 'cause they were both in the flick. Rachael's current honey is RIDER STRONG.
Mad About…?
I know JTT has a mellow temper, but has he ever gotten really mad or caused any trouble? — Hayley Taga, Waianae, HI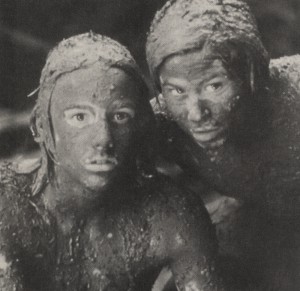 You're 100% right about Jonathan's mellow temper — he's 'way laid back. But he'd probably tell you that it makes him mad to see people being mean to others, to animals or doing damage to the environment. As for causing trouble, Jonathan's a true-blue pro when he's working and he's pretty much an angel at home.
Canada Can-Do?
Hey! I'm JTT's #1 fan and like a devoted person, I wrote to him. And wadda' ya' know? He never wrote back! So I got to thinking, maybe he thinks Americans are more important than Canadians, and he can shove us on the back shelf. (Please prove my theory wrong!) — Kristin Schultz, Porcupine Plain, Saskatchewan, Canada
Whoa, whoa, whoa! JTT would never put his Canadian fans on the back shelf. He's crazy about all his fans, no matter where they come from. The problem is, JTT gets so many letters now, it takes him a long, long time to get to them all. If you're patient, and keep sending him your best wishes, you'll probably receive something. Till then, don't be mad at JTT — he can't help it.
Birthday Babe?
When exactly is Jonathan's birthday? — A fan from Kentucky
JTT was born on September 8, 1981 — that means in two months, he'll be 15!
College Bound?
I have a quick question about JTT. I heard he wanted to go to UCLA for college. Is that true? – Jessica Huff, Frankfort, IL
JTT is definitely interested in The University Of California at Los Angeles. But he's got plenty of time for that decision. Still, JTT does go through college guide books every now and then. He's a real "plan-aheader."
Name Game?
Does Jonathan Taylor Thomas use his brother's middle name, Thomas, as a stage name? — Courteney Phillips
Yep—that's a keeper.
Sailing With The Stars?
I was reading that Jonathan would be doing the Sail With The Stars cruise again this year — now I hear he's not. What gives? — Heather Morris, Iron Station, NC
Jonathan decided a while ago not to participate in the Sail With The Stars cruise celeb cruise to Alaska — he's gone twice before and he decided it was time for newer stars to take over.
A Poet And He Didn't Know It?
Does JTT read and write poetry? — Anonymous
He reads it but he doesn't write it.
Mail Man?
Does Jonathan have an e-mail address? — Lauren Errea, Poughkeepsie, NY
Jonathan himself doesn't have an e-mail address—in fact, he's really concerned about impostors impersonating him all over the Internet. But Home Improvement has a page on American Online — and that one's the real thing.
The Girl Thing?
I just love JTT. He is a great actor and very good looking. What is his idea of a perfect girl? — Natalie Chavez, Kansas City, KS
Jonathan is a creature of habit, so his dream girl description always sounds pretty much the same — he's looking for someone funny, smart, warm, honest and most importantly, someone with a big heart and a great personality. Sound like you?
Got A Question For, Or About JTT?
Here's The Place To Send It:
LOVE JTT,
16 Magazine,
PO Box 887,
Madison Square Station,
New York,
NY 10159
Source: 16 Magazine, Volume 38, Number 1, September, 1996
Date: July 1996
Author: unknown